Tea Party Makes Andrea Mitchell Miss 2008 John McCain; 2012 John McCain Still a Disgrace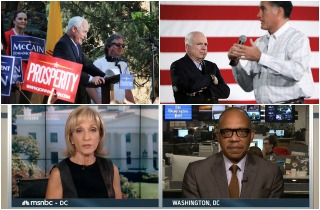 Members of the tea party descended on Washington over the weekend where they rallied alongside veterans who attended the unrelated Million Vet March against the actions of President Barack Obama's administration. The fiery rhetoric employed by one speaker at that rally made MSNBC anchor Andrea Mitchell and Washington Post columnist Eugene Robinson lament that the GOP's base has largely turned away from centrist legislators like Sen. John McCain (R-AZ).

This is all rather comical. It seems like only yesterday that McCain represented all the undesirable excesses of the modern conservative movement for MSNBC personalities.
Over the weekend, Freedom Watch founder Larry Klayman addressed a crowed of tea party supporters in Washington and said that President Obama "bows down to Allah." He called for a "non-violent revolution" and added that Obama should "put the Quran down" and "get up off his knees."
"What have we come to," Mitchell lamented after playing that clip. "I'd like to know who from Congress was there when those comments were made and I'd like to hear from anybody who as at that rally."
"This is so outrageous," Robinson observed. "We're way beyond, say, what's happened to civil discourse in this country."
"This is crazy talk. This is dangerous talk. And it's just obscene," he continued.
Mitchell said that the rally attendees were obviously "misinformed" about what Sen. Ted Cruz (R-TX) did to create the conditions which led House members to fail to pass a clean budget resolution and shut the government down.
"They may not fully understand how that happened," Robinson agreed.
Finally, Mitchell invoked McCain and the famous moment – hallowed in the mythology and political lore that dominates modern punditry – when the 2008 Republican presidential nominee corrected one of his supporters who insisted that Obama was secretly a practicing Muslim.
"One would ask any elected official certainly to take a stand and correct that record," Mitchell said.
"There was no one with that – with that sort of integrity and fortitude which you would expect, you would hope, that any elected official would demonstrate," Robinson concluded.
McCain occupies a unique space in Democratic politics. He can be either an arch conservative or a pragmatic moderate, depending on the rhetorical needs of the political commentator at the time the Arizona senator's name is invoked.
Today, McCain is being celebrated on MSNBC. It feels like just yesterday that he was a racist.
"I've said it again, and will say it again, there has been a witch hunt for every person of color that has served alongside this president," said Richard Wolffe, MSNBC.com executive editor, in November of last year when Sen. McCain led the charge against Susan Rice's expected nomination to replace Hillary Clinton as Secretary of State.
"What you're seeing here is a war-by-proxy on the president, which is why he said 'If you want to come after me, come after me.' And it always just happens to be people of color who are working alongside him," Wolffe later clarified.
"He's still bitter he lost in '08, and now his time as a powerful Senator is waning," MSNBC host Touré added. "He also gave us the horrible optics of he and [Sen.] Lindsey Graham (R-SC) as old, white, establishment folks wrongly and repeatedly attacking a much younger black woman moments after an election in which blacks and women went strongly blue."
Even Mitchell got in on the act. "This is not going to help Republicans at all," Mitchell said on MSNBC's The Cycle moments after Rice announced she was withdrawing her name from being considered to replace Clinton. "The fact that a woman, a woman of color, has been forced out of a confirmation process even before she was nominated."
So, while we're keeping a record, 2008 John McCain substantially preferable to 2012 John McCain. At least, depending on the conservative that needs smearing.
[Photo via screen grab/Matt Rourke/AP]
— —
> >Follow Noah Rothman (@NoahCRothman) on Twitter
Have a tip we should know? tips@mediaite.com