Ted Cruz Tired of Democrats Invoking His Name as 'Root of All Evil in the World'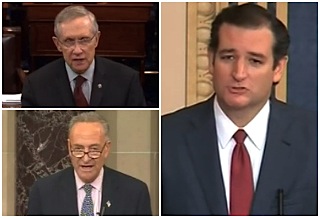 Sen. Ted Cruz (R-TX) expressed his frustration on the floor of the Senate Friday afternoon at becoming synonymous with the "root of all evil in the world" since the government shut down earlier this week. Cruz's comments came in response to an accusation from Sen. Chuck Schumer (D-NY) that he was taking a piecemeal approach to re-funding the government while simultaneously attempting to defund Obamacare.
"The senator from New York stated that I, quote, have advocated 'shutting down the government,'" Cruz began, in response to Schumer. "That statement, unfortunately, is a flat-out falsehood and I know the senator from New York would not do so knowingly, so it must have been a mistaken statement, because I have said repeatedly in every context we should not shut the government down."
Instead, he turned the blame back around on the Democrats, saying, "We are in a shutdown because the Democrats in this body have refused to negotiate, refused to compromise." Of course, many on the left, as well as some on the right, blame Cruz's anti-Obamacare rhetoric in his 21-hour "filibuster" for goading Republicans into inserting the efforts to defund and delay the law into the budget fight.
Cruz offered some tepid praise to Senate Majority Leader Harry Reid (D-NV) for calling for "civility" on the floor before calling out the Democrats for portraying him in a negative light. "It has been several days since I have been to the floor of the Senate, and yet, I feel that I have been here in absentia," Cruz explained. "Because so many Democrats have invoked my name as the root of all evil in the world."
"And, indeed, the same Majority Leader that gave an ode to civility, just a few days ago was describing me and anyone who might agree that we should stop the harms of Obamacare, describing us as, quote, 'anarchists,'" he continued. "So, I think the encouragement towards civility is an encouragement that should be heard across the board."
Watch video below, via C-SPAN2:
[photo via screengrab]
— —
>> Follow Matt Wilstein (@TheMattWilstein) on Twitter
Have a tip we should know? tips@mediaite.com