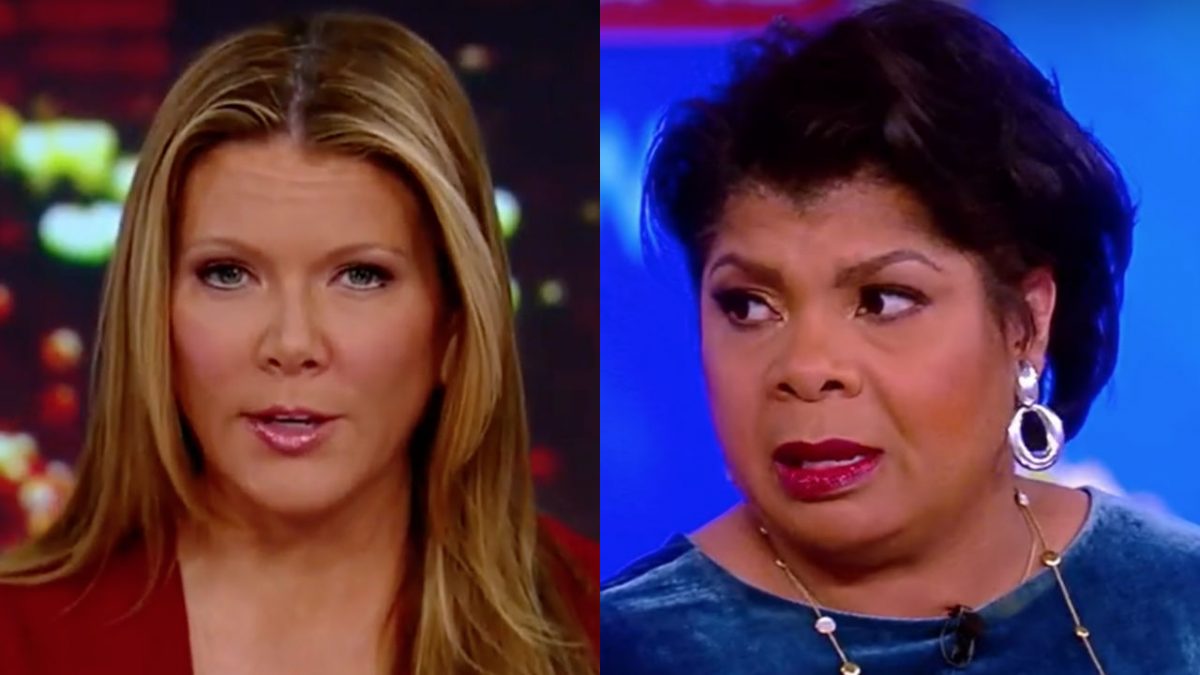 American Urban Radio Networks White House correspondent and CNN political analyst April Ryan fired back at Fox Business Network anchor Trish Regan for criticizing Ryan over her complaints about her treatment by President Donald Trump.
Ryan tried asking Trump a question at his Wednesday press conference, but Trump told her repeatedly to "sit down" and scolded her for "rudely interrupting."
On The View yesterday, Ryan talked about her clashes with the Trump White House and said, "I don't back down. I'm not afraid. And it doesn't help that I'm a woman. It doesn't help that I'm from a smaller news network, American Urban Radio Networks. And that I'm a black woman who is not perceived to be part of their base. So they use me as an example to show 'this is what can happen to you.'"
Last night, Regan said Ryan is playing the victim card "because for some reason, in her mind, the President telling her to sit down was all about her being female and it was all about her being African-American."
No, #AprilRyan. @POTUS did not tell you to "sit down" because of your race and gender. He's an EQUAL opportunist when it comes to putting out-of-line journalists in their place. #TrishRegan #TrishIntel pic.twitter.com/mOQHKwyj13

— Trish Regan (@trish_regan) November 9, 2018
Regan shot back by pointing to Trump's exchange with "white male correspondent" Jim Acosta, "just in case you were too inside your own head, April, and too inside your own situation to actually notice anything else that was going on in the room."
She called Trump an equal opportunist when it comes to "out-of-line so-called journalists."
"These reporters do not know how to conduct themselves with any kind of decorum. It is the White House. There is a protocol," Regan added. "And part of that means not talking out of turn, not yelling across the room. I mean, it's not that hard."
Ryan fired back today with some choice words for Regan's commentary, particularly after Trump went after her again today, along with his attacks on Abby Phillip and Yamiche Alcindor.
Thanks 4 your analysis but b4 u talk about me, know the history of my relationship w/@realDonaldTrump & this White House & then You can say what you think. Black & woman is what I stand by & most importantly the issues affecting Black Americans is the reason for his disdain 4 me. https://t.co/GibGv2TeWN

— AprilDRyan (@AprilDRyan) November 9, 2018
Umm now what did you say previously? Can you say @Yamiche @abbydphillip and @AprilDRyan? Redo your story! https://t.co/GibGv2TeWN

— AprilDRyan (@AprilDRyan) November 9, 2018
@Acosta is of Cuban Descent. Get your facts right https://t.co/GibGv2TeWN

— AprilDRyan (@AprilDRyan) November 9, 2018
Regan responded and accused her of trying to twist the narrative:
& @PeterAlexander ? saying @POTUS doesn't like U bc ur a black woman not right. 4 better or worse, white male reporters experienced same

— Trish Regan (@trish_regan) November 9, 2018
NewsFlash @AprilDRyan U can't play the "victim" card when in SAME press conf, @POTUS went after white men @PeterAlexander @Acosta

— Trish Regan (@trish_regan) November 9, 2018
Girl bye! What you reported was "FAKE NEWS"

— AprilDRyan (@AprilDRyan) November 9, 2018
Incredible how this "reporter" tries to twist a narrative. suggests @potus dislikes acosta bc he's Cuban? (He's Irish 2) ENUF @AprilDRyan https://t.co/jpkAWHSOcj

— Trish Regan (@trish_regan) November 9, 2018
Again. I have had enough with your bias lies on me. You have not clue. Bye. You are now blocked. And I just found out who you were today. blocking your hate now.

— AprilDRyan (@AprilDRyan) November 9, 2018
[image via screengrab]
Have a tip we should know? tips@mediaite.com
Josh Feldman - Senior Editor