Glenn Beck Directs Viewers To Communist Party Website For Rally Information (UPDATED)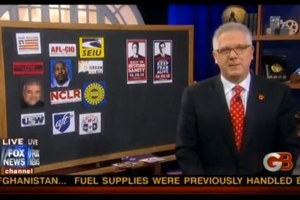 Ed Note: The rally Beck was referring to when he directed viewers to the CPUSA.org website was the One Nation Rally taking place on Oct. 2, 2010, not the Colbert/Stewart rallies which are scheduled for Oct. 30, 2010 as this post reported. The post title has been altered to reflect the change, and the incorrect portions of the post have been struck. We regret the error.
If the dueling Comedy Central mall rallies by Jon Stewart and Stephen Colbert intended to make a splash on the Glenn Beck chalkboard, tonight they achieved their goal. Joining an ensemble cast of usual suspect magnets that included the logos of SEIU and Code Pink, the posters for the Rally to Restore Sanity and Keep Fear Alive comprised the entire scope of liberal rallies storming the mall in October, backed, according to Beck, by unions and, yes, the Communists.
After citing the non-ironic rally of left-wing activists congregating in DC next month, Beck wished Stewart and Colbert the best on their dueling rallies. "I feel disappointed that we have to mock honor," he ceded, "but, whatever, I wish them success." He also gave his take on Colbert's testimony to Congress on migrant farm workers. "I felt bad for Stephen Colbert," he noted, calling his testimony "in bad taste" but not blaming him for accepting an invitation that he did not request. Instead, he turned to the people pushing for Colbert to speak on the matter– the United Farm Workers Union. Yes, the unions had their hand in this travesty, he argued, but what's more, the full run-down of information on the aforementioned events the 10.2.10 rally is detailed on the internet in one special place: CPUSA.org, the official site of the Communist Party USA. "The communists," he concludes, "will give you all the information you need."
The segment from today's Glenn Beck below:

Have a tip we should know? tips@mediaite.com