InTrade Strongly Leans Towards Obama Winning Re-Election And Several Key Swing States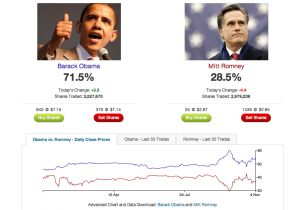 Today's the day, everyone, so by tomorrow anyone who bet on the outcome of the election will either be humming "If I Were A Rich Man" or cursing at the heavens. And in the final lap of this presidential race, InTrade is currently leaning towards the assumption that things will stay relatively unchanged after today. The betting site gives President Obama over 70 percent odds of reelection, with the Democrats having a 75 percent chance of holding onto the Senate and the Republicans having an over 95 percent chance of keeping control of the House.
RELATED: Betting On Romney? Take A Look At Intrade And Bookies' Numbers
Obama dropped to around 55 percent two weeks ago following the final presidential debate, when Mitt Romney looked like he had a strong change of winning. The price per share on Obama has, as of writing this post, increased 33 cents today alone. The lowest price people are currently selling shares on Obama for is $7.15, while the highest price people are buying at for shares on Romney is $2.85.
Obama is also heavily favored to win Ohio and Virginia, while Romney is given heavy odds on Florida. Polls from Ohio find Obama narrowly ahead of Romney, but within the margin of error, while this headline sums up all you need to know about the key southern swing state: "Latest Florida Polls Have No Idea If Romney or Obama Is in the Lead."
As for the makeup of Congress starting in January, InTrade largely predicts things will stay where they are. The Democrats are given 3/4 odds to hold onto the Senate, while it is an overwhelming guarantee (at over 95 percent odds right now) that the Republicans will keep their strong lead in the House of Representatives.
—–
Follow Josh Feldman on Twitter: @feldmaniac
Have a tip we should know? tips@mediaite.com
Josh Feldman - Senior Editor