Jake Tapper: 'The Media Is in a Rough Place Right Now' After Misreading Election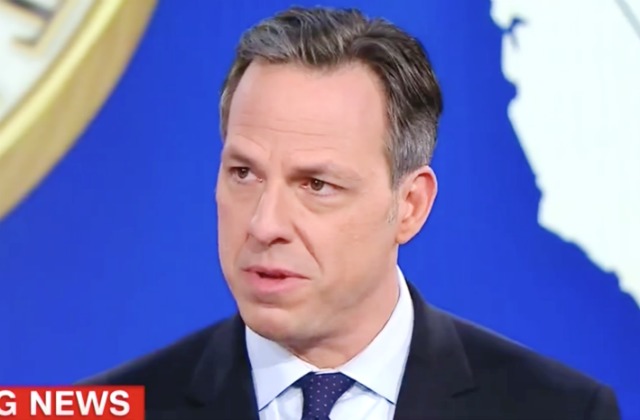 CNN's Jake Tapper spoke candidly with TheWrap in an interview out today about what the press needs to do to "regain ground" with the American people after getting the election so wrong.
On election night, Tapper said that if Trump ends up winning, it may "put the polling industry out of business."
He elaborated on that assessment to TheWrap:
Obviously there was a lot of misreading of information. I don't know one poll that predicted Wisconsin was going to go for Trump, and it did fairly convincingly… We in the analysis department relied too heavily on those numbers, which are just snapshots based on models; they're not facts
Tapper said the press is "in a rough place right now" and needs to earn the trust of its audience by "providing them with as much information as possible and asking appropriately tough questions."
When asked about that "Alt-Right Founder Questions If Jews Are People" chyron that ran on his show (a chyron that Tapper himself strongly and publicly denounced), Tapper talked about the steps he's taken to prevent something like that from happening again and said that another reason network ratings are "in the single digits" is because "we make too many mistakes in the media and we pretend that nothing happened."
When asked about whether CNN's "complicit" in the rise of Trump, Tapper noted how even though CNN, Fox, and MSNBC all carried entire Trump rallies live, the only network president to acknowledge that fact was Jeff Zucker.
He also understands and takes to heart a lot of the criticisms people on both sides have about the press' need to be tough:
I think there's a lot of frustration with the media for not asking follow-up questions and not challenging people in power efficiently, and I sometimes feel that way about my own work, that I'm not really doing enough… I read a lot of the criticism both of the media in general and also me specifically, and when I think people are right, I take their criticism to heart … I work hard to be as persistent as I could be.
You can read the interview here, via TheWrap.
[image via screengrab]
— —
Follow Josh Feldman on Twitter: @feldmaniac
Have a tip we should know? tips@mediaite.com
Josh Feldman - Senior Editor