Juan Williams On NPR Executives: 'These People Are So Rude And Condescending'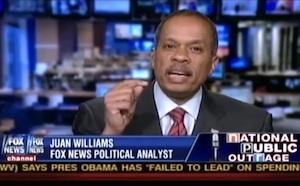 Yesterday a secretly recorded video tape was released on the Internet that depicted NPR executives touting liberals while bashing conservatives and Tea Partiers. While the executives on tape have since resigned, it was only a matter of time until the last personality caught in an NPR controversy was asked to opine on this controversy, and its fair to say that Juan Williams did not hold back.


For the uninitiated, Williams was at the center of the last NPR controversy when he was unceremoniously dumped by NPR executives after he candidly shared his own personal xenophobia towards Muslims at airports during an appearance on the O'Reilly Factor. After being forced out at NPR, the former part-time Fox News contributor was welcomed into Fox News' with open arms, and a reportedly fat contributor's contract by Roger Ailes, and sparked a new opinion battle in the hearts and minds of viewers of Fox News and listeners of NPR.
Williams has remained defiant, if not understandably bitter and angry, towards his former employer. Appearing on Fox News Hannity last night, his passionate feelings towards NPR do not appeared to have mellowed at all; he still's angry and seems eager to call out the hypocrisy at the suddenly beleaguered media outlet. Williams said:
These people are so rude and condescending and they say people like me are bigots because i tell you what I feel. These folks are not only attack the tea party as anti-intellectual and racist and bias. They attack anybody that disagrees with their point of view –this elitist, this NPR point of view that time rest of us are a bunch of dummies, a bunch of rubes from the country, we don't understand what going on. he thinks we lack education and only his group up there, on the executive floor of NPR really understand. These folks are doing damage, Sean, to real good journalists at NPR the people who gather the news. Because they are destroying the brand. These people are just destroying NPR.
In introducing the segment, Sean Hannity predictably tries to make the current kerfuffle about Barack Obama (and comments he made on his campaign over three years ago) and fortunately Williams does not take the bait, focusing instead on what he seems to be the elitist class of executives at NPR that are doing damage to the "good journalists" at NPR.
Watch the clip courtesy of Fox News:
(H/T
Breitbart.TV
)
Have a tip we should know? tips@mediaite.com