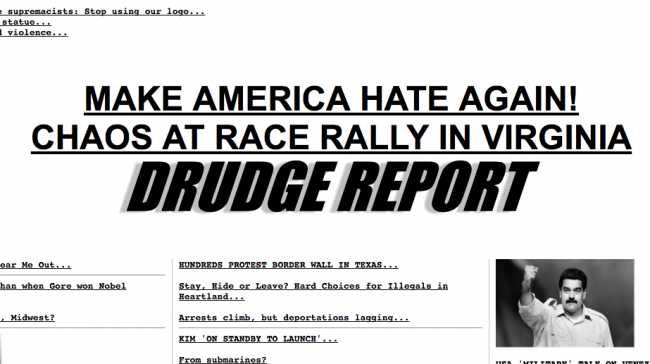 Matt Drudge trolled President Trump's signature campaign slogan to weigh in on the violence in Charlottesville, Virginia.
Topping the homepage of Drudge Report on Saturday night, it read, "Make America Hate Again! Chaos at Race Rally in Virginia."
Drudge has been growing increasingly critical of the Trump presidency. Last month, he tweeted a front page of an old copy of the New York Daily News that read "Trump in a Slump." He went after Republicans for their failed efforts to repeal and replace Obamacare with the headline "Hot Mess: Will They Botch Tax Cuts Next?" Back in February, he tweeted that the GOP "should be sued for fraud" for their inaction on Obamacare and tax cuts.
President Trump is taking heat for his remarks on the violence that took place in Charlottesville, specifically for not calling out the white supremacists, Nazis, the KKK and white nationalists that attended the "Unite the Right" rally. He instead condemned the "hatred, bigotry and violence on many sides."
Four of the rally goers so far have been arrested. One was James Alex Fields Jr., who drove a car into a crowd, leaving one dead and several injured. The others were Troy Dunigan for disorderly conduct,  Jacob L. Smith for misdemeanor assault & battery, and James O'Brein for carrying a concealed hand gun.
[image via screengrab]
Have a tip we should know? tips@mediaite.com