Mike Huckabee Defends Ted Nugent's Comments During Radio Interview With Nugent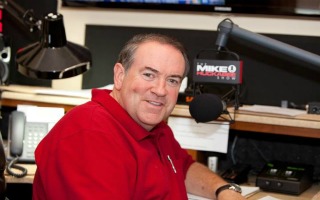 Embattled rocker Ted Nugent continued his radio tour on Wednesday with an appearance on the Mike Huckabee radio show. Following the interview, Huckabee defended Nugent's controversial comments about Democrats and President Obama, saying that they were "really not threatening at all." The former Arkansas governor also took a swipe at the Secret Service, saying that they have their own "issues" and some agents may need "inoculation from a little Colombian Cat Scratch Fever."
RELATED: Ted Nugent To Glenn Beck: 'I've Never Threatened Anybody's Life In My Life. I Don't Threaten'
Huckabee introduced Nugent as "my hunting buddy and good friend who found himself in just a little bit of hot water after this weekend's comments." When asked by Huckabee to explain his comments, Nugent seemed to place blame on the government for overreacting to his content.
"The level and increasing corruption and abuse of power in the federal government is off the charts – everybody knows that," said Nugent. "Unless you're part of that abuse of power and then you just stand by and you take advantage of that because abuse of power corrupts absolutely."
Nugent went on to attempt to indict the Department of Justice and Attorney General Eric Holder for the "Fast and Furious" gun-walking scandal.
"We all revere the sacrifice and dedication of law enforcement, but when you have the U.S. Attorney General illegally running guns to Mexican drug gangs and bringing about the death of another law enforcement hero, we kind of cry tears of blood that we're so heart broke," said Nugent. He went on to cite the Solyndra energy loan scandal, the unfolding General Services Administration scandal and the Justice Department's failure to prosecute members of the New Black Panther party as examples of government corruption.
Nugent also went on to indict the federal government for enforcing provisions of the Endangered Species Act in Michigan and cited the actions of hunters in Texas for reviving the Scimitar-Horned Oryx population.
When finally asked to explain his comments over the weekend, Nugent professed that he is a "non-violent guy."
"I never threatened anyone's life in my life," said Nugent, repeating a phrase he used on the Glenn Beck radio show hours earlier. "I wouldn't threaten the life of the president, or anyone in public office or anyone anywhere."
Nugent said that he is having a meeting with Secret Service agents tomorrow as they perform their due diligence to, as he put it, "respond to the lunatic fringe in the Congress and in the Senate and the White House, where they have to investigate or at least do a interview regarding the preposterous, outrageous, deceitful, dishonest claims that I threatened anyone's life," said Nugent. "I respect their duty to do so."
Nugent said that he was subject to a politically motivated investigation in California before because he had several non-operational riffles on stage with him at a concert that could have been a model that was illegal in the state of California. "So this has been going on because I have the audacity to use the First Amendment, Mike, and they want to shut me up and it ain't gonna happen."
When Nugent left the interview, Huckabee defended his comments saying that "they weren't threatening at all," and that "the Secret Service has their own issues to worry about." He said that a few USSS agents may require some "inoculation from a little Colombian Cat Scratch Fever."
Listen to the segment below via The Mike Huckabee Report:
Have a tip we should know? tips@mediaite.com