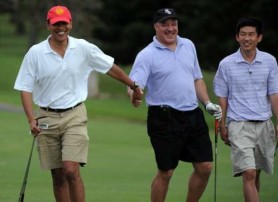 Meme alert! Get ready for the President's golf game to take the cablers by storm. Let's take a look at the signs.
Barack Obama's fondness for golf is not a secret — anyone who follows a White House correspondent on Twitter knows that their weekends are often spent waiting for the president to finish his 18 holes. This past weekend, however, Obama's favorite pastime got some extra, significantly placed, mentions. The first from CBS's Mark Knoller who noted that Obama has racked as many golf games in his first nine months than George W. Bush did in almost three years:
Today – Obama ties Pres. Bush in the number of rounds of golf played in office: 24. Took Bush 2 yrs & 10 months.
Bush ended his presidential golf after round 24. He came to feel it was inappropriate for the Commander-in-Chief while US was at war.about 17 hours ago from web
"I don't want some mom whose son may have recently died to see the Commander-in-Chief playing golf," Bush said to Politico's Mike Allen.about 17 hours ago from web
Perhaps presidential golf is the new presidential "clearing brush." Stay tuned for Glenn Beck's analysis of why all this golf makes Obama a communist/socialist/elitist Mao follower. Which might be humorous, except the politics of Obama's golf game does not stop there. Yesterday's pool report, penned by Chicago Sun-Times' Lynn Sweet, noted that Saturday was the first time that Obama had invited a woman to join his foursome. The first time. From the report:
The golf game was notable in that the presidential foursome included, for the first time a female, Melody Barnes, the president's chief domestic policy advisor. The foursome: Obama, Barnes, Obama pal Eric Whitaker, the physician who is an executive vice president at the University of Chicago Medical Center and Marvin Nicholson, the White House trip director.
The timing of Barnes' appearance on the green (also noted in WaPo) was interesting as it coincided with this Sunday's NYT A-1 story about how the Obama White House is a boys club.
The suspicion flared in recent weeks — and not for the first time — after President Obama was criticized by women's advocates and liberal bloggers for hosting a high-level basketball game with no female players…Ben Finkenbinder, a junior press aide and scratch golfer, was recently invited into a foursome with Mr. Obama. (In records kept by Mark Knoller of CBS, the president has played 23 rounds of golf since taking office, none of which have included women, though Mr. Knoller allows that the press office does not always release the names of every player. A White House spokesman, Bill Burton, said Friday that Mr. Obama planned to play this weekend with Ms. Barnes.)
That is a whole lot of high profile, politicized golf mentions for one weekend! The last time this much attention was spent on Presidential leisure time was during the Obama's Martha's Vineyard vacation, which also happens to be the week many people feel the White House lost control of the narrative. So, yeah. Get ready, because there is only so much White House vs. Fox News a news cycle can take and 'the President plays too much sexist golf' seems set to nicely fill in the gaps in the week to come.
Have a tip we should know? tips@mediaite.com