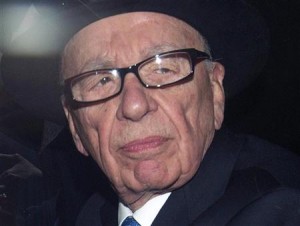 Rupert Murdoch has not exactly gotten the best press lately. Since last summer, he has been embroiled in scandal over phone hacking that took place at newspapers owned by News Corporation. He appeared before a Parliament committee and a grand inquiry to testify about the malfeasance. But what of Fox News? Well, Bill Keller's newest column for The New York Times argues that the cable news channel is Murdoch's "most toxic legacy" and that its slogan "fair and balanced" is just for "suckers."
RELATED: Did Bill Keller Compromise NY Times Coverage Of Fox News By Criticizing Fox News?
Keller noted that at a time when many of Murdoch's holdings are being investigated and the man himself was deemed by Parliament to be unfit to run a company, Fox News continues to do well and make a generous profit. But why does Keller call it "toxic"? He says it's not because the channel is conservative and a "nonstop Obama roast," but because the channel tries to promote itself as "something it is not" and in the process does further damage to the public discourse.
I doubt that people at Fox News really believe their programming is "fair and balanced" — that's just a slogan for the suckers — but they probably are convinced that what they have created is the conservative counterweight to a media elite long marinated in liberal bias. They believe that they are doing exactly what other serious news organizations do; they just do it for an audience that had been left out before Fox came along…

[W]e try to live by a code, a discipline, that tells us to set aside our personal biases, to test not only facts but the way they add up, to seek out the dissenters and let them make their best case, to show our work. We write unsparing articles about public figures of every stripe — even, sometimes, about ourselves. When we screw up — and we do — we are obliged to own up to our mistakes and correct them.

Fox does not live by that code.
Keller also addressed the tale of a New York magazine writer who was working on a simple biography of Fox chief Roger Ailes, but was informed that he would not get a chance to sit down with Ailes. When he tried again a few months later, Fox told him if he made sure to attribute every single negative quote in the book instead of hiding them behind the veil of anonymity, they would consider giving him access to Ailes. And as Keller writes, "Fox comes down hard on disloyalty," citing Joe Muto, the Fox News Mole, as an example of "what… constitutes a criminal offense in Murdoch World."
Read the full article here
Have a tip we should know? tips@mediaite.com
Josh Feldman - Senior Editor