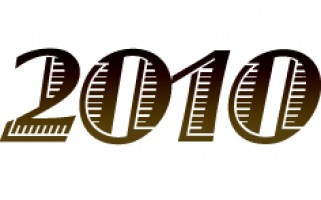 When looking ahead at the next year, pundits turn into prognosticators. Bloggers covering all sorts of topics and industries are now giving their predictions for what's to come in 2010. Conventional wisdom says to go the conservative route with these choices in order to avoid looking foolish when none of your projections pan out. At the same time, there's a key difference between picking things that are realistically possible and those that are already on the road to happening. I've assembled my favorite predictions covering a variety of fields and what's supposedly in store for the near future:
Recovering Economy: "Starting in Q1, unemployment will slip a half percentage point per quarter…We're already seeing average work-week hours go up and number of temp workers go up. This is always the precursor to employers ultimately hiring new full-time employees," says James Altucher at the Wall Street Journal. Once the jobs become available, though, the question could turn to how big a learning curve should be granted to employees adjusting back to the workforce.
Social Media Business: "Facebook will go public…Registrations are still growing nicely but showing signs of deceleration. Friendster's remains and the slow fade at MySpace are warning signs of what can happen to a social-networking site after it peaks,"says Rick Aristotle Munarrizat at the Motley Fool. Each year, Mark Zuckerberg grows another year removed from his original college-aged audience and from the excitement of having his own venture.
Sarah Palin Politics: "The only thing Sarah Palin will be president of in 2012 will be TV ratings. Palin will get a talk show as early as next year. We're betting a startup like Lifetime or Bravo will make an offer she can't refuse," says Daniel Stone at Newsweek. It'll remind America how likable the lady from Alaska was when she first arrived on the scene in September 2008, and viewers will find comfort in her television persona and presence.
Housing Decisions: "The threat of nuclear terrorism renews interest in living outside of large urban areas, further depressing housing prices in the larger metropolitan areas," says a blogger at SeekingAlpha. This will re-define what real estate agents mean by "Location, location, location" as homebuyers put their safety at the top of their lists.
Foreign Affairs: "There will be many strikes in the coming months, and many demonstrations on the streets of Athens," says Barnaby Phillips at al Jazeera. Some Middle-Eastern countries are already hosts to protests against corruption, but Greece will emerge as a nation that demands international attention due to its financial crisis.
Presidential Liability: "Michelle Obama will slip by her minders and say something outrageous. The MSM will not report it. Persons who refer to it will be denounced as racists," says John Derbyshire in the National Review. The first lady has been relatively quiet throughout Obama's first year in office, and she's going to be used more going forward – with both parties bracing for it.
Internet Accessibility: "A little known technology company emerges to extend wireless across unlicensed bandwidths, with dramatic impact on the VoIP market," says Rayne at FireDogLake. With Americans' ever-increasing need for and reliance on wireless Internet, this service seems like a logical next step, and someone will make a major splash in the market when they figure out how to do it.
Television Technology: "TV goes 3D…The television industry is looking for the next big thing to sell us. 3D TV will be the next big push. 3D will also begin to creep into PC and console games. It might not be ready for primetime on any of these platforms, but 2010 will be the year that 3D starts to make serious headway," says Tim Bajarin at PC Magazine. If Avatar is truly the "future of filmmaking," then people will expect similar technology at home.
Sports Pardon: "I predict [Tiger] Woods will survive this self-created mess and the public will forgive him. What he did was a disgrace, but he remains the greatest golfer in the game and maybe the greatest ever," says Cal Thomas at USA Today. If Tiger can get going again on the green, fans will disassociate Woods' personal failings from the golfer's professional prowess.
Music Listens: "It's been coming for more than a decade, but major labels are starting to grasp the digital opportunity…Expect 2010 to be the year that the bad press on the major labels starts becoming more favorable," says Nick Crocker at Mashable. As all other industries are now following the lead of the consumers, the music business will have to adapt in order to survive, despite whatever growing pains and financial losses they endure at the beginning of the transition.
Have a tip we should know? tips@mediaite.com