Trump Reportedly Ordered White House Counsel to Stop Sessions From Recusing Himself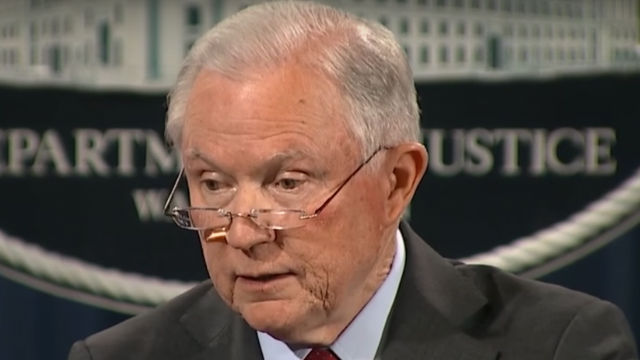 President Trump reportedly made efforts to prevent Attorney General Jeff Sessions from recusing himself from the Russia investigation last spring.
According to a report from The New York Times, the president "gave instructions" to top White House lawyers to stop Sessions from bowing out from the probe amid public pressures.  White House counsel Donald F. McGahn II followed orders and "lobbied" for Sessions to stay put, two anonymous sources said. Obviously, McGahn failed.
Trump reportedly "erupted in anger in front of numerous White House officials" after Sessions defied his instruction, saying he needed his attorney general to protect him.
He apparently compared his ideal relationship to Sessions to previous administrations:
Mr. Trump said he had expected his top law enforcement official to safeguard him the way he believed Robert F. Kennedy, as attorney general, had done for his brother John F. Kennedy and Eric H. Holder Jr. had for Barack Obama.
Trump then reportedly asked "Where's my Roy Cohn?" Cohn was his personal lawyer who also served as a top aide for Sen. Joseph McCarthy during his investigation into Communist activity in the United States in the 1950s.
Sessions recusal came two months before Special Counsel Robert Mueller was named to take over the investigation looking into possible collusion between Russia and the Trump campaign during the 2016 election.
[image via screengrab]
Have a tip we should know? tips@mediaite.com