Trump Reportedly Told Putin: 'If You Want to Have an Arms Race We Can Do That, But I'll Win'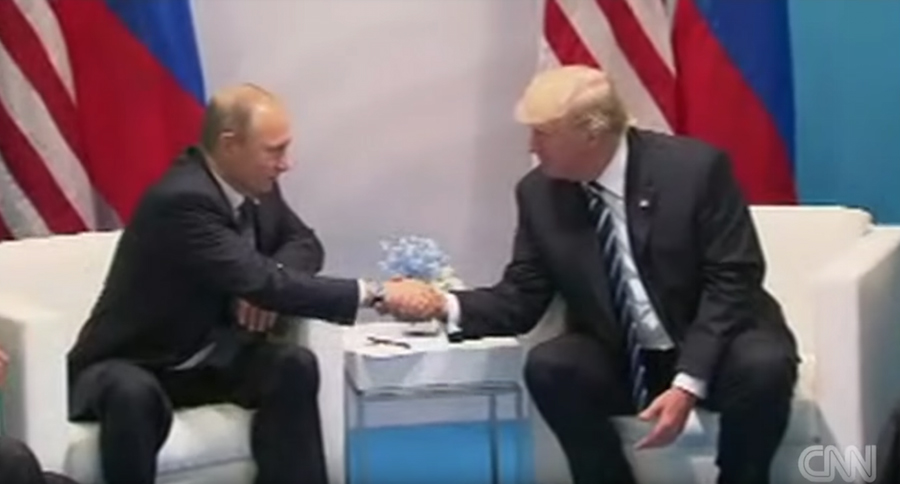 Behind the scenes, President Donald Trump is taking a bit of a tougher stance on Russia, facing off with President Vladimir Putin, according to sources who spoke with NBC News.
Two White House officials told the outlet that in a discussion with Putin last week, Trump threatened him, saying, "If you want to have an arms race we can do that, but I'll win."
The warning is a shift in the tone of Trump's relationship with Putin, which had bordered on chummy following the 2016 election. But sources say the tide has changed since Putin revealed Russia had the potential to hit the U.S. with nuclear-capable weapons. The implication "really got under the president's skin," a White House source said.
Trump also reportedly asked his staffers to keep his policy moves regarding Russia under wraps. Following his signing of a weapons deal to arm Ukrainians in their country's battle against Russian-supported separatists, Trump told his aides to avoid publicly flaunting the decision. Apparently, he didn't want to instigate Putin any further.
"He doesn't want us to bring it up," an official told NBC. "It is not something he wants to talk about."
The new approach raises questions about the future of U.S.-Russia relations, and presents the possibility that personal strong-arming could trigger Trump to respond more aggressively to Putin's growing power.
[Image via screengrab]
Follow Amy Russo on Twitter: @amymrusso
Have a tip we should know? [email protected]