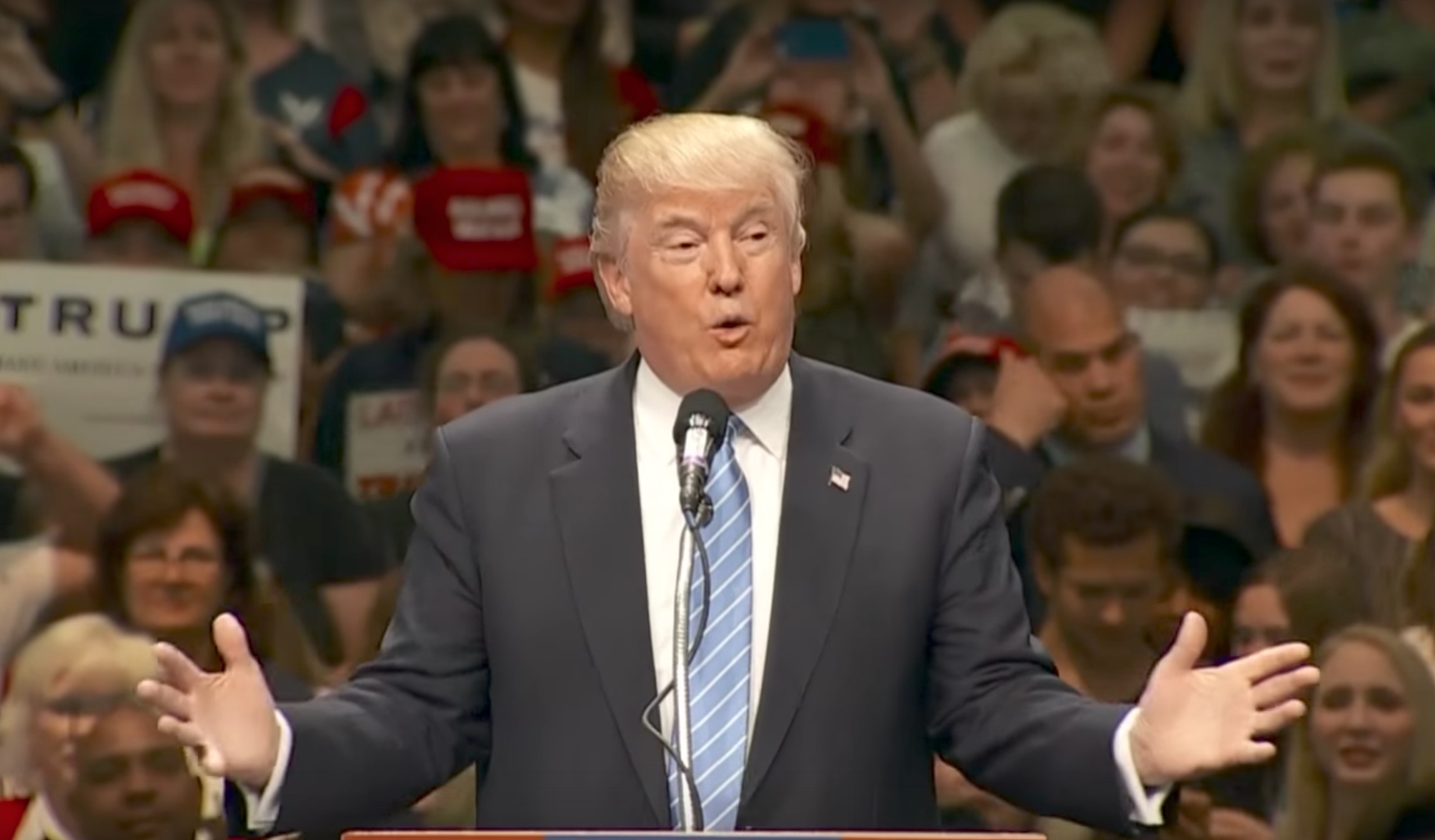 President Donald Trump retweeted a questionable meme to his 35.9 million followers Tuesday morning, depicting a "Trump Train" plowing through a man with a CNN logo on his head — and now the White House is claiming the meme was "inadvertently posted," according to CNN.
Trump's retweet of the meme prompted outrage in the early morning, given last week's terror attack in Charlottesville in which a white supremacist drove his car into a crowd of protestors, leaving 19 injured and one dead.
And someone in the White House must have realized how inappropriate it was for the president to post a meme depicting the mowing down of a news network following a vehicular terror attack; as it was deleted minutes later.
Brian Stelter is now reporting that an anonymous White House official told CNN the tweet was "inadvertently posted."
But as Times reporter Maggie Haberman pointed out, "Retweets require two clicks," so some might find it hard to believe the retweet was completely inadvertent.
"As soon it was noticed, it was immediately deleted," an official also told CNN.
Stelter notes that the official did not say who actually retweeted the anti-CNN meme: while Dan Scavino is charged with the president's social media accounts, Trump often tweets things out himself.
It wouldn't be the only accidental tweet send out by the president's account early Tuesday morning. He also retweeted a comment from a Twitter user calling Trump "a fascist."
Those tweets — along with a Tuesday night retweet of Jack Posobiec, the alt-right Pizzagate conspiracist who once brought a "Rape Melania" sign to an anti-Trump protest to smear attendees — have only added credence to the narrative that Trump is carefully rejecting the violence in Charlottesville whilst keeping his alt-right supporters satisfied with winks, nods and some tender dogwhistles.
Trump's equivocations on the attack in his Saturday statement were celebrated by his white supremacist supporters, and by the time he issued a more explicit rebuke of those groups on Monday — following intense, bipartisan pressure — alt-right leaders like Richard Spencer dismissed the comments as meaningless.
"Only a dumb person would take those lines seriously," Spencer said.
As Politico's Eliana Johnson pointed out, political "analysts said Trump's drawn-out response was part of a double game — an effort to avoid alienating part of his base followed quickly by a pivot to tamp down the outrage."
Essentially, it was the press-conference equivalent of today's tweet-and-delete.
[image via screengrab]
—
Follow Aidan McLaughlin (@aidnmclaughlin) on Twitter
Have a tip we should know? tips@mediaite.com
Aidan McLaughlin - Editor in Chief