What Happened? The Loudest Part of Hillary Clinton's Book Tour is Her Silence on Harvey Weinstein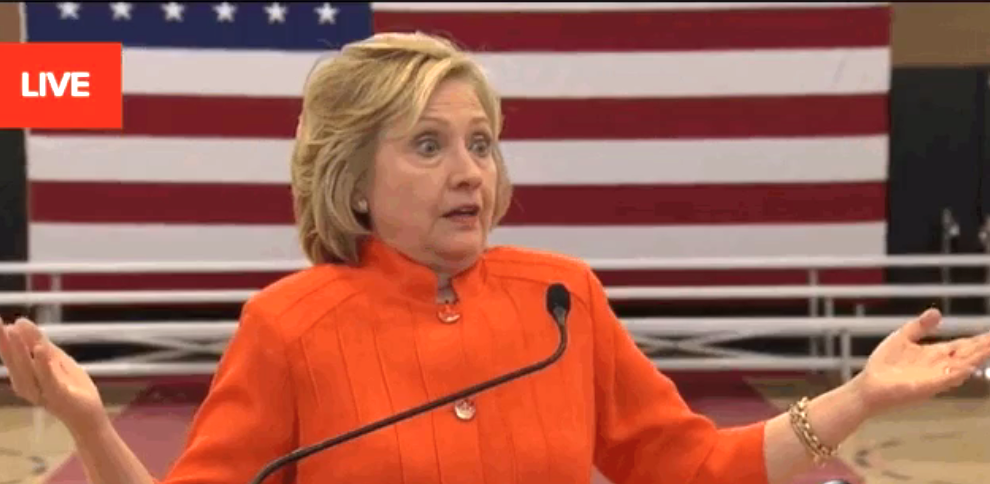 Hillary Clinton has been a busy woman this past month promoting her 2016 memoir What Happened, a now New York Times best-seller. We've seen her go on nearly every daytime talk show, late-night talk show, and cable news show to talk about how the presidency was taken from her by Russia, James Comey, Bernie Sanders among many things.
Despite the wishes of fellow Democrats of wanting her to go away and having a lower approval rating than President Trump, Clinton refuses to disappear because she desperately wants to be relevant. You can tell because she has weighed in on everything, from waging war with the NRA after the Las Vegas shooting, the ongoing NFL anthem protests, Trump's handing of Puerto Rico, to the health care debate, it's as if she needs to weigh in on everything.
So why hasn't she weighed in on Harvey Weinstein?
It has now been five days since The New York Times published the bombshell story that exposed Weinstein's history of sexual harassment. The fallout has so far been severe. More victims have come forward. Democrats have begun funneling his campaign contributions to charities.  He was fired from his namesake studio The Weinstein Co. Even his own legal team is fleeing from him. Hollywood is starting to turn on him with A-listers condemning his behavior and late-night comedians mocking him. Three women are now accusing him of rape. And yet, we haven't heard a peep from the failed presidential candidate.
There's no doubt that Clinton, like most Democrats, have been put in an awkward spot. She herself has received almost $44,000 from Weinstein over the years between her Senate run and her two presidential campaigns. He even hosted multiple star-studded fundraisers for her during the 2016 election. The Obamas aren't out of the woods either since he visited the White House 13 times when President Obama was in office and a clip of former First Lady Michelle Obama has gone viral of her calling Weinstein a "wonderful human being."
And while it looks bad that the Obamas have remained silent so far about this controversy, Clinton's silence is deafening.
In my column last week, I referred to Clinton as the "self-imposed ambassador of sexism" because throughout the election and since her defeat, she has used misogyny as a crutch for her victimhood. She truly believes there is no one on the entire planet who has suffered from sexism than her. She should tell that to Weinstein's victims. Or better yet, she should tell that to her own husband's victims! Not only that, she kept trying to sell herself to the American people as a "champion for women." During the election, she said victims of sexual assault "have the right to be believed."
Hillary Clinton's problem isn't just all the money she has accepted from Weinstein over the years. Her problem is that this scandal juxtaposes with her "women empowerment" message. She insists she's a feminist, but she keeps associating herself with these disgusting pigs. Between Weinstein, Anthony Weiner, and her husband, Clinton's inner circle is rather appalling.
But what I find most hilarious is that for over the past month, she tried so hard to remain relevant during her book tour by commenting on anything topical when most people didn't want to hear from her, but now that people actually want to hear from her on something, it's radio silence. I mean, even Meryl Streep had the balls to release a statement despite my assumption that she's full of crap (I honestly don't buy her claim that she had no idea Weinstein was a scumbag). And Chelsea Clinton deserves credit for at least acknowledging the scandal with a couple of retweets.
Hillary Clinton doesn't understand that the longer she waits from speaking out against her friend, the more she's tying herself to him. If she truly wants to be this "champion for women," she needs to stop her habitual pattern of standing with sexual predators and actually stand behind their victims
This is an opinion piece. The views expressed in this article are those of just the author.