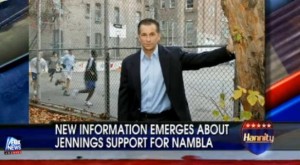 Jake Tapper took a lot of heat from the left yesterday for daring to ask whether the White House has the right to adjudicate the legitimacy of a news organization. The exchange was the latest in a growing feud between the White House and Fox News Channel. The White House has also begun to take flak over this, and not just from the right. I think both sides need to simmer down, now, and take a look at the whole picture.
Where is the Outrage?
Shortly before Tapper's volley, Mediaite asked why other mainstream media outlets had not rallied to defend Fox News from the White House's onslaught. There are several possible explanations for this that I'll explore in greater detail, but I wanted to point out that this is not the first time something like this has happened. White House Press Secretary Robert Gibbs routinely takes shots at news outlets, Fox and otherwise, and he always has. His indictment of the entire British press got him a huge laugh in the briefing room, and nobody complained when he admonished Major Garrett for using blogs as a source when he asked about "Dealer-gate."
Those situations are not the same as this one, but I don't recall any attempt to get Gibbs to narrow his criticisms then. As someone who writes for several blogs, I would have appreciated that.
Tapper's Principled Question
Much of the criticism of Tapper is the result of a misunderstanding of his question, and the fact that Gibbs didn't answer it very well. He wasn't defending Fox News, and he wasn't suggesting that the White House shouldn't push back against Fox. Here's what he asked:
It's escaped none of our notice that the White House has decided in the last few weeks to declare one of our sister organizations "not a news organization" and to tell the rest of us not to treat them like a news organization. Can you explain why it's appropriate for the White House to decide that a news organization is not one…
There's a world of difference between some verbal jousting over an editorial point of view and what could be seen as an effort to chill a free press. Questioning Fox News' "legitimacy," arguably a point about the honesty of some of the network's reporting, dances on that line. Advising other news organizations to shun Fox News crosses it. As a friend said to me, President Palin will also have thoughts on which news organizations are legitimate.
What Axelrod's heavy-handed remark also does is to allow Fox News to play the victim, and allows the media to ignore Fox News' provocation of the White House.
As for Gibbs' handling of the question, he gives Fox an out by referencing Fox's opinion programming, rather than elaborating on the accuracy and fairness of its reporting, which he began to do when I asked him about it last week.
Next: The Wall Between Opinion and News, And The White House's War on Fox
Have a tip we should know? tips@mediaite.com