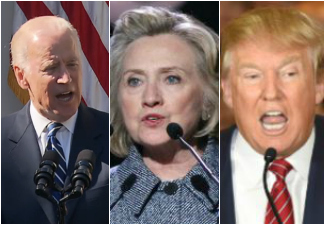 So after all the speculation—and there was no shortage of that—and all the talk of what it means to Hillary, to the GOP, to his legacy… Joe Biden has decided to sit the rollercoaster that is the 2016 race out.
As is customary in situations like this, let's quickly break down the winners and losers:
Winner: Hillary Clinton. From her debate performance against Bernie Sanders and the Washington Generals (the hapless team the Harlem Globetrotters perform against and have never lost to) up until Biden's announcement today, she's enjoyed the best 200 hours of her otherwise hapless campaign. She'll likely lose Iowa, she will lose New Hampshire… but the firewall that is South Carolina and Nevada will #CoolTheBern permanently and send her to the nomination. There's just no viable candidate to stop her (a majority of Americans already say they won't vote for a Socialist) in the form of Sanders, and the other two remaining showed how utterly inept they were during said debate. So by not having a decent candidate in Biden (albeit one who is 0-for-2 to this point in running for president) actually willing to challenge her until the convention (Bernie isn't one to criticize his competition, which makes it hard to, you know…win), she sails to her entitlement.
Loser: Joe Biden. Hillary is a horrible candidate. Most Democrats don't even like her. Instead, they simply see her as a vessel to power… as the only Democratic product left with the name brand and money to challenge for the White House. And if you watched the debate last week, it was painfully apparent just how thin the Democratic bench is. But Biden is clean and articulate. He could have won the nomination. He could have won the presidency. He isn't the uniter he claims to be, sure (telling a black audience Republicans exist to put "y'all back in chains" and referring to most of the 2016 GOP field as homophobes isn't the stuff of unity), but he still manages to pull it off.
Loser: Any network left stuck airing the Democratic debates (CBS, NBC, ABC, PBS, Univision). Who would want to tune in to watch a coronation at this point? O'Malley wants to be VP, so no attacks are coming there. Chafee, well… Chafee. And Bernie, who never actually sought to be president (and is likely blown away by his popularity among millenials) is instead running solely to push Mrs. Clinton to the left. Mission accomplished for now, at least until she etch-a-sketches her way back to left-of-center during the general. Practice makes perfect, after all. But moving forward, only the GOP owns the interesting, unpredictable race. Having Biden in would have meant a horserace on both sides. No more. And cable news and political media will relatively suffer as a whole because of it. Because believe me: Everyone in media was rooting for Biden to jump in for the entertainment/actual competition aspect alone.
Winner: Donald Trump. He certainly talks a good game on Twitter and in interviews. But let's face it: Biden knows how to throw some sharp elbows when debating. He comes prepared, takes off the gloves and fights dirty (Ask Ryan, Paul). Trump's worst nightmare would have been facing off with Biden, particularly on foreign policy and women's issues in a presidential debate. Instead, Trump… or whomever wins the nomination… gets Hillary, who ain't no Joe on that kind of stage (Ask Obama, Barack).
Loser: Ed Henry (Fox). He's had a very good campaign season thus far from a reporting perspective. He's the one who got the "What, with a cloth?" soundbite out of Hillary on the question around wiping her email server clean, for example. But he also had the exclusive on Biden announcing he would be running for president, and it was wrong. Perhaps Biden changed his mind from the time he told Henry's well-placed sources that he was jumping in, but no matter. If Biden did run, Henry gets all the credit. That isn't happening, so Henry gets the criticism. That's the way it goes.
Winner: Joe Biden. Yup. There are pros and cons (as stated above) to this decision. In the end, Biden goes out as a guy with high favorability and trust numbers. He's likable and the type even many Republicans say would be fun to have a beer with. If he ran and failed again, he goes out a loser… as the guy who couldn't make the third time a charm when seeking the highest office in the land. By not running, he has freedom to say or do what he wants. He's still a major player in the party. Most importantly, his legacy as an authentic, candid, wears-his-emotion-on-his-sleeve-guy stays firmly intact.
Joe decides to stay out. Many — including me — felt he would jump in. The next five days through the Sunday shows will be fine entertainment as media eats media over who was right and wrong on this decision.
Just another day in the never-ending reality show that is the 2016 Election.
— —
Follow Joe Concha on Twitter @JoeConchaTV
Have a tip we should know? [email protected]