Bernie Goldberg Challenges Gingrich's Debate Quibbling To O'Reilly: 'What Did Scott Pelley Do Wrong?'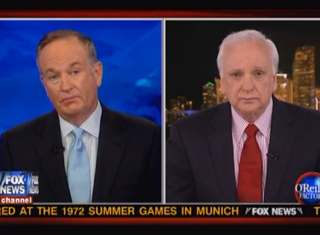 New Republican frontrunner Newt Gingrich owes much of his newfound popularity to the fact that he repeatedly challenged moderators at debates, rather than turning on other candidates. On The O'Reilly Factor tonight, show regular Bernie Goldberg defied common conservative wisdom by questioning Gingrich's latest foray into telling the media how to do their job, asking host Bill O'Reilly to clarify what CBS' Scott Pelley did wrong in asking whether Gingrich would kill American-born terrorists overseas.
RELATED: Newt Gingrich Is Officially The Frontrunner According To Recent GOP Public Policy Poll
Goldberg told O'Reilly that it had been a challenging topic for him because "there are a whole bunch of people who I respect tremendously" who were happy that Gingrich turned on Pelley for asking the question, but "I'm just on the other side of this one. What did Scott Pelley do that was wrong?" Goldberg noted that, while he was not a legal scholar, he had called Judge Andrew Napolitano for his opinion on the matter, and that he had said that, "at absolute best, it's unsettled law." If that was it's status, Goldberg concluded, it was worth discussing at a debate.
O'Reilly noted that Pelley had challenged Gingrich on whether the people being killed were guilty in any legal sense. "A moderator is supposed to ask questions," Goldberg replied. "Gingrich brought up the term guilty… and Scott Pelley said– and I think you woud've said– not guilty in any court of law." O'Reilly declined to confirm whether he would have said the same, but noted the point anyway.
RELATED: Brit Hume: Gingrich's Debate Performances & 'Uncle Newt' Persona Helping Him In Polls
The segment via Fox News below:

Have a tip we should know? tips@mediaite.com