Bill Maher: Liberty University Giving Out Diplomas 'Cheapens' Everyone Else's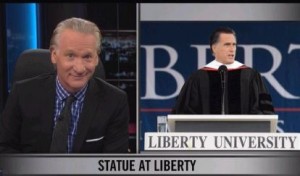 In honor of Mitt Romney's commencement speech at Liberty University last week, Bill Maher used his show-ending New Rule tonight to question the validity of the entire university's credentials and argue that when they give out diplomas, it "cheapens my degree from a real school." Maher said that because of Liberty's religious bent, the university isn't on par with "legitimate" universities that provide students with a comprehensive education.
RELATED: Bill Maher: Taliban Wants To Go Back To 8th Century, Christian Right Wants To Go Further Back
Maher reminded his audience that Liberty University was founded by Reverend Jerry Falwell and that the university's science department includes creation studies. He joked, "This is a school you flunk out of when you get the answers right." Maher used this to ask why diplomas from Liberty University are just as legitimate as diplomas from other institutions of learning.
"Conservatives often say that gay marriage cheapens their marriage. Well, I think a diploma from Liberty cheapens my degree from a real school."
Confusing one's beliefs with facts about the world, Maher said, does not qualify to be a place where people can go to get an education about the world. He used the last part of the segment to call out conservatives (including Romney and Glenn Beck) for creating a "now-mandatory talking point" that the Declaration of Independence and the Constitution were not merely the result of noble but imperfect men working tirelessly to preserve the people's freedoms, but that it was guided by the hand of God.
Watch the video below, courtesy of HBO:
Have a tip we should know? tips@mediaite.com
Josh Feldman - Senior Editor