Bill O'Reilly Suggests NY Times Report on Eric Bolling's Alleged Harassment Led to Son's Death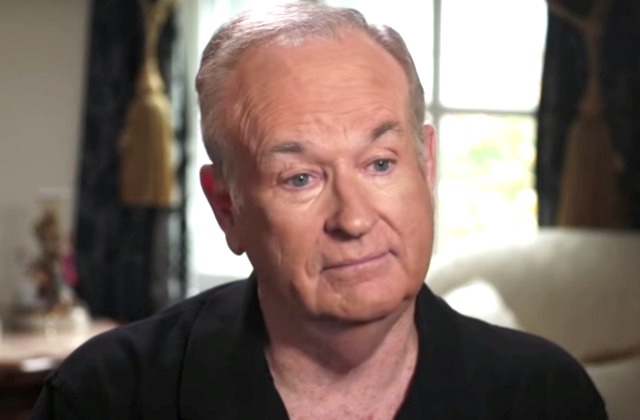 The New York Times followed their  Bill O'Reilly bombshell this weekend with an interview with the former Fox News prime time host in their The Daily podcast hosted by Michael Barbaro and featuring reporters Emily Steel and Michael S. Schmidt, who broke news this weekend of O'Reilly's settled sexual harassment suit with former radio co-host and Fox News contributor Lis Wiehl.
The NY Times reported that O'Reilly allegedly paid out $32 million to Wiehl before he was signed to a new Fox News Contract last year, to which Fox News claimed that they did not know the specifics of the settlement, only that it was an outstanding issue that had since been resolved. Steel and Schmidt had also reported in April on numerous harassment claims that eventually led to parting of ways between Fox News and  O'Reilly (who was at the time at the top of cable news ratings.)
While the most recent report came out on Saturday, this on-the-record interview occurred last week on Wednesday, the audio of which was only released today, and portrays a tense and uncomfortable back-and-forth. As Steel describes in the podcast, O'Reilly clearly sees himself as a victim in these reports, denying wrong-doing and saying that, in "41 years in the broadcast business" that he "has never had one complaint filed against him by a co-worker."
O'Reilly then brought up the tragic episode of Eric Bolling, who's son passed away shortly after being dismissed from Fox News under his own cloud of sexual harassment allegations also reported by the Times.
"I urge you to think about what you put in your newspaper. Eric Bolling's son is dead. He's dead because of allegations made — in my opinion and I know this to be true — against Mr. Bolling." When asked by the host Barbaro to explain what O'Reilly meant by this, Schmidt translated that O'Reilly is suggesting that the Times report led to the death of Bolling's son.
O'Reilly and his lawyer Mark Fabiani have claimed this to be a "vicious smear," saying in a statement released Saturday "Once again, The New York Times has maliciously smeared Bill O'Reilly, this time even failing to print a sworn affidavit from his former lawyer, Lis Wiehl, repudiating all allegations against Bill O'Reilly."
It's not clear what O'Reilly hoped to accomplish by sitting down for this interview, apart from trying intimidate the NY Times from publishing a story that O'Reilly did not want out there , ending  with "we have physical proof that this is bullshit!" before adding that he did not want his children to be faced with details of the bombshell report published on Saturday. "So it's on you if you want to destroy my children further. Alright? Because it's all crap. Why don't you be human beings for once? This is horrible."
The emotion and energy from a clearly aggrieved O'Reilly is the sound of a protective father who appears to be trapped in a corner.
You can listen to the audio:
UPDATE –– 4:46 pm ET: Bolling has now responded:
Eric Bolling responds to O'Reilly statement to NYT that Bolling's son died because of allegations against his father https://t.co/dfzQGkVeHD pic.twitter.com/664jOp21MB

— Emily Steel (@emilysteel) October 23, 2017
Have a tip we should know? tips@mediaite.com