Dan Abrams: Hard-Hitting Wall Street Journal Editorial 'Not Very Smart' For Murdoch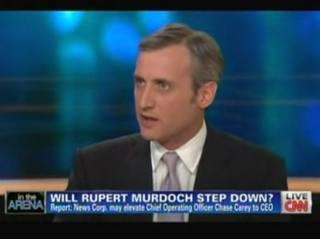 As Rupert Murdoch's News Corporation appears to veer closer and closer to being entirely engulfed by its corruption scandal in the UK, the defenses have risen in volume, with Wall Street Journal leading the charge in America with a scathing editorial this morning. But the odds are high that the tactic may backfire, argued Mediaite founder Dan Abrams to Don Lemon this evening, as the offensive defense could be interpreted as downplaying a scandal that, according to many in the media, has achieved Watergate proportions.
On tonight's In the Arena, Abrams countered claims that the scandal was a product of News Corporation culture– a claim many are using to suggest that Fox News and other American entities associated with those in the UK should also be investigated. "As a legal matter, you've just got to evaluated them separately," he noted, especially as "there's no evidence up to this point that the American institutions, Wall Street Journal, Fox News Channel, etc., were engaged in any of the kind of conduct we're talking about."
That said, Abrams noted that there was a serious concern Stateside for Murdoch's entities. "The bigger concern for the empire as a whole," Abrams argued," is that the U.S. authorities are now investigating, the FBI is investigating in regard to 9/11 victims, but there are federal laws that basically prevent an organization from paying off foreign officials." The law, Abrams further explained, was typically employed to catch bribes for contracts– not illegal wiretapping– but "there are some saying that the law could be used to prosecute News Corp here in the United States, but I think that to do that there's going to have to be some knowledge on the part of U.S. officials that this was going on."
In regard to that Wall Street Journal editorial accusing many in the media of seeking out the schadenfreude of watching their organization collapse, Abrams called the move "classic for a Murdoch operation" but, in this context, "not very smart." While he told Lemon he did perceive a "glee on the part of those who despise Murdoch and his operation," to go on the offensive on this story "suggests that it's not a real story," which undermines their position. "That's almost taunting," Abrams observed, recommending the tactic in situations of "less scrutiny and less trouble." Instead, the former head of the first paper to fall– News of the World— was arrested, and many more threaten to follow Rebekah Brooks's footprints.
The segment via CNN below:

Have a tip we should know? tips@mediaite.com