James Hoffa's Full 'Take These Sons Of Bitches Out' Quote: 'Everybody Here's Got A Vote'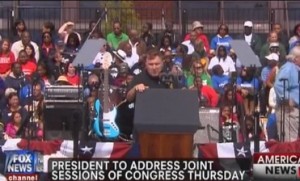 A quote from Teamster President James Hoffa is making the Labor Day rounds, particularly on the right, as evidence of the kind of "violent rhetoric" that President Obama denounced in the wake of January's shooting tragedy in Tucson. In an abridged version of the quote posted here earlier, Hoffa says, of the Tea Party, "Let's take these sons of bitches out," but according to CNN, Hoffa prefaced his remark by saying, "Everybody here's got a vote," which narrows the comment's meaning.

When outrage over Hoffa's quote swept over Twitter, I hadn't seen the clip yet, but the quote sounded so familiar that I took a look for another source, with broader context. Sure enough, CNN reported the quote this way:
"Everybody here has a vote," Hoffa said Monday. "If we go back and we keep the eye on the prize. Let's take these sons of bitches out and give America back to America where we belong."
The full quote (Hoffa actually says "Everybody here's got a vote," and, employing the colloquially approved plural for sonofabitch, "let's take these sonofabitches out") is almost identical to something Hoffa said on Morning Joe about a week-and-a-half ago, with little or no outrage. He said ""There's going to be an election in '12, and maybe the answer is, we wipe these people out."
The full Hoffa quote was also run in a clip later in the day by Fox News, and Fox Senior White House Correspondent Ed Henry took pains to clarify the Hoffa quote via his Twitter feed following his initial report, which omitted "Everybody here's got a vote":
Full quote, Jimmy Hoffa Jr: "Everybody here's got to vote. If we go back & keep the eye on the prize, let's take these sons of bitches out"

in fairness here's full context on Hoffa comments. He was earlier saying "we gotta keep an eye on the battle that we face, a war on workers"

more Hoffa: "We've got a bunch of people there that don't want the President to succeed, and they're called the Tea Party"

Hoffa: "President is frustrated by what's going on. Well guess what, we got the vote … remember in November. We will beat the tea party"
Here's Henry's report, featuring the full quote from Hoffa:
Now, the argument can be made that even with the qualifier, Hoffa's quote is pretty strong, and he did use a bunch of war metaphors. Sarah Palin's infamous "Don't retreat, reload!" tweet contained no qualifier about votes (she was fed one 3 days later by a fan), and conservatives were Jim-dandy with that, so the current outrage is likely of the "Gotcha!" variety. Anyone who wants to be mad at Hoffa for using war metaphors is welcome to do so (I like metaphors, always have), but the remark that's getting all the attention isn't even a metaphor, it's a clear message to vote Tea Party Republicans out of office.
As a sidenote, James Hoffa is, indeed, the son of notoriously vanished Teamsters boss Jimmy Hoffa, but he is not a "junior," as the two have different middle names (Hoffa the elder was James Riddle Hoffa, while his son is James Phillip Hoffa).
Have a tip we should know? tips@mediaite.com