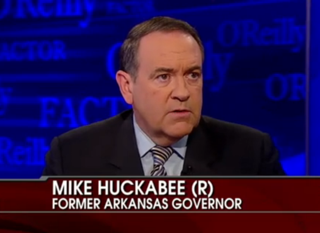 Either Mike Huckabee, merely hours away from a decision on running for President, has taken a hard turn right or Bill O'Reilly has significantly mellowed out on social issues. Preempting his announcement tonight on Fox News, Huckabee visited the Factor to discuss the most important issues to him, and O'Reilly appeared completely incredulous at the idea that gay marriage is an issue any voter could care about.
Huckabee began by confirming that his announcement tonight would definitely be about the presidential race and teased that "not even my executive producer knows what I'm going to say." He did confirm that, whatever the announcement, it would not be musical.
O'Reilly then turned to the issues that would be relevant to Candidate Huckabee in 2012, and Huckabee made clear that the economy would be first and foremost among those. Of President Obama, Huckabee commented that "he lacks the leadership, understanding capital formation, understanding how business works because he's never run anything," a point well-taken by O'Reilly. "The Republicans are going to run as the pro-business party," O'Reilly remarked, "while the other guy is a socialist and doesn't do anything."
Huckabee then turned to the Defense of Marriage Act, arguing that the President would have a hard time with "Hispanics and Blacks" because of the religious communities there. O'Reilly was skeptical: "Do you think that when it comes down to it, African Americans are going to put gay marriage over voting for one of their own?" Huckabee ceded the point, but argued that the issue would "cut into" the vote. Still, O'Reilly insisted that "inevitably" gay marriage would become law, and began to question the importance of the issue: "Do you really think that's vital to the country?" Huckabee stuck to his guns– that gay marriage would change "the social culture in which we have survived for several thousand years"– but ultimately did not succeed in getting O'Reilly riled up over it.
The segment via Fox News below:

Have a tip we should know? tips@mediaite.com