Bill O'Reilly Tells Panel He's 'Had Enough… I'm Calling Out The Race Hustlers'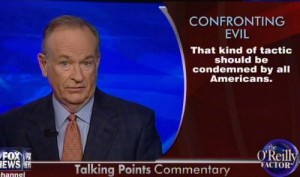 Bill O'Reilly opened his show tonight by attacking liberal hate speech on the divisive issues of race and gay marriage. O'Reilly, in particular, highlighted rhetoric used by sports writer Jason Whitlock, whose words on gun control following the murder-suicide committed by NFL linebacker Jovan Belcher were now-famously quoted last Sunday by Bob Costas. O'Reilly described his language as "pure racism" and responded to personal attacks leveled at him by Whitlock.

RELATED: O'Reilly Bashes MoveOn Ad For 'Threatening Violence' If Obama Loses Election
O'Reilly explained that he reached out to Whitlock to get him on the program, but instead of accepting the invitation, Whitlock publicly wrote a piece attacking O'Reilly for acting like a "master" in the "big house" thinking that he could simply "summon" him. O'Reilly said Whitlock is engaging in "pure racism" for implying that O'Reilly is akin for some kind of slave overlord.
O'Reilly said Whitlock deserves some pity, but mostly he deserves to be called out for trying to deliberately stir up emotional reactions. Juan Williams said Whitlock should have considered the O'Reilly invitation as an "honor," saying that Whitlock are trying to "muzzle" people like him and O'Reilly.
Mary Katharine Ham agreed that Whitlock's attacks on O'Reilly were just "an attempt to marginalize people who disagree." O'Reilly broadened the discussion to say it bothers him when people try to label people who oppose gay marriage as bigots and homophobes.
Williams said these people don't want an honest debate, while Ham pointed out there are different standards for different sides." O'Reilly declared that he has "had enough" and will continue to call out the "Christmas haters" and the "race hustlers."
Watch the video below, courtesy of Fox News:
—–
Follow Josh Feldman on Twitter: @feldmaniac
Have a tip we should know? tips@mediaite.com
Josh Feldman - Senior Editor