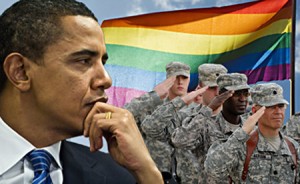 On the Sunday edition of CNN's State of the Union, host John King recalled one of President Obama's most overlooked campaign promises: repealing the Don't Ask, Don't Tell policy of homosexuality in the military. Amid a financial crisis and the ever-raging health care debate, the issue has often been overlooked in recent months and the Obama administration is asking for patience. "Is it time now, as soon as possible, to change that policy?" King asked. "The president has an awful lot on his desk," said National Security Advisor Jim Jones, a retired Marine Corp general.
"This is an issue he intends to take on at the appropriate time," said Jones, indicating that the Defense Department is taking the necessary steps to "prepare." King introduced the issue by reading from a statement by Senate Majority Leader Harry Reid, in which he wrote to the president: "At a time when we are fighting two wars, I do not believe we can afford to discharge any qualified individual who is willing to serve our country."
Public opinion of homosexuality has become more accepting both in the military and out in recent years, aided largely by a positive portrayal in popular media. In a post-Will & Grace world, and along with seminal films like Brokeback Mountain, we've seen acknowledgment and recognition rise across America. And with the tide doubtlessly changing in culture, politics seems to be a final frontier of sorts when it comes to homosexuality.
There has clearly been a cultural shift since President Clinton introduced his version of the policy over 16 years ago, but today's Democrats are still treading lightly when speaking publicly about a change. As Obama struggles to control the terms of debate throughout his first year in office, the administration seems to be avoiding hot button issues like Don't Ask, Don't Tell, which tend to bring out passionate and emotional debate. The administration seems to be favoring media pragmatism, leaving public comments about the policy to eventually come from higher ranking official like Hillary Clinton or even the president himself.
Below is the clip of Obama advisor Jim Jones on State of the Union:
Photo via NY Daily News
Have a tip we should know? tips@mediaite.com