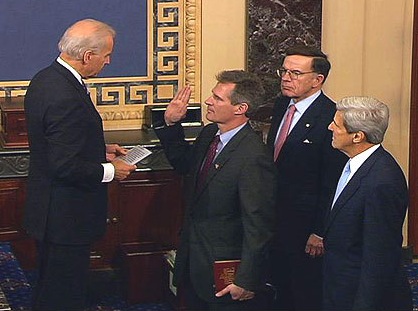 Al Franken is not entirely comfortable with this whole "Senator Scott Brown" thing. The newly seated Massachusetts Republican is being partially blamed for a heated discussion between Franken and senior White House advisor David Axelrod during a Senate Democrats meeting, where the senator attacked Axelrod for the lack of direction, specificity, and initiative the Obama administration has taken on health care reform in the wake of the party losing their supermajority in the chamber.
According to a Democratic source reporting to Politico, Franken's outrage "was all about leadership and health care and what the plan was going to be," or, more specifically, that there didn't seem to be a plan in place at all for the reform. Relying on the current Senate leadership to come up with something substantive that would receive bipartisan support led to a bill that united both parties only in their frustration with it– the Republicans with its reforms and earmarks designed to "buy off" moderate Democrats and the Democrats with its concessions in reforming the health care reform system designed to do the same. And this was when the Democrats were immune from filibustering. As the Politico team put it, "Democratic senators are frustrated that the White House hasn't done more to win over the public on health care reform and other aspects of its ambitious agenda — and angry that, in the wake of Scott Brown's win in the Massachusetts Senate race, the White House hasn't done more to chart a course for getting a health care bill to the president's desk." The combination of Brown unlocking that door and the Obama administration's consistency in abstract, soft-spoken strategy was apparently concerning to many Democratic senators, with Franken taking his frustration with the lack of direction much further than his colleagues.
This fear of the "41-seat majority" does not seem to have spread to the Democratic leadership in the Senate, however. DSCC Chair Robert Menendez commented that siding with the Democrats on a jobs bill would be "to his benefit" should Brown choose to given the current polling numbers of the importance of job creation to Massachusetts voters. Politico also reports Brown got a standing ovation from the nine Democrats attending his swearing-in ceremony last night. It appears the people in charge hope Brown will live up to the Massachusetts part of his identity than the Republican one.
Brown has helped convince them that he's not exactly going to be James Inhofe out there, commenting that he's "always been a big tent person" and that he is willing to work in a bipartisan way. Some would argue he has little wiggle room to act otherwise. He is, of his own admission, fairly socially liberal, and while he is a Republican, he still represents the most liberal constituency in the nation. He has another campaign to win in six years, and whether the Tea Party movement that helped get him to Washington will still be in full swing by then– and whether the Democrats will pitch as uninformed a candidate as Martha Coakley again– is anyone's guess. On the other hand, the simple act of being elected as a Republican candidate gives him a mandate to be a thorn in the side of Democrats on almost any issue that comes to the floor. This is especially true of the biggest issue on his campaign platform: health care reform, the issue Senator Franken is so incensed about. There is little doubt in anyone's mind Brown will vote in favor of the current reform, so perhaps Franken's fears are justified. That doesn't mean he is not open to voting for a new bill with fewer (or less obvious) pork amendments and a bit more concrete reform. For now Democratic leaders are hoping to soften Brown up with other business in the hope that he will becoming a regular ally in enacting the matters on their agenda.
Have a tip we should know? [email protected]