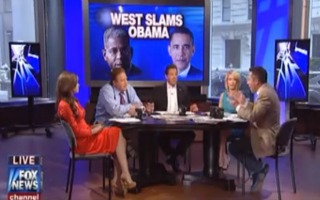 On Thursday, the panelists of Fox News Channel's The Five debated over the appropriateness of comments by Rep. Allen West (R-FL) in which told a group of constituents that President Barack Obama would "rather you be his slave." The conversation quickly devolved into a heated argument between co-host Bob Beckel and fellow host Greg Gutfeld. "Now you know what it's like, Bob," Gutfeld told Beckel after saying that West's conduct mirrors that of the left.

RELATED: Allen West: Pres. Obama Would 'Rather You Be His Slave'
The Five hosts played clip of West and turned to Beckel who called it "one of the most outrageous statements I've heard a sitting member of Congress make ever."
Gutfeld immediately chimed in and said that he would defend him. "Allen West is a warrior so, in my book, he gets a pass on everything.
"This is what makes Allen West awesome," Gutfeld continued. "He uses the same incendiary language that the left has been using for decades."
Beckel asked Gutfeld to clarify that remark, at which point co-host Eric Bolling chimed in "How about this, 'kill Romney,'" in reference to a Barack Obama campaign memo that outlined the strategy against Republican presidential candidate Mitt Romney.
Beckel said that there was a difference between a sitting member of Congress and an unidentified campaign staffer. "I don't care whether he's a warrior or not, the guy can't keep his mouth shut," said Beckel.
"Neither can you," Gutfeld shot back.
Co-host Dana Perino likened West to former Democratic Florida Rep. Alan Grayson who was known to say incendiary things about his Republican colleagues. "He said some very outrageous things, he lost his seat and my fervent hope is that Allen West loses his," Beckel replied.
Watch the segment below via Fox News Channel:
> >Follow Noah Rothman (@Noah_C_Rothman) on Twitter
Have a tip we should know? tips@mediaite.com