A Prelude to 2012: Reports Say Obama Will Focus Campaign Strategy Against Congress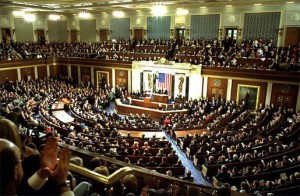 It's fair to say that President Obama and Congressional Republicans have not had the best relationship over the past several years. Speaker of the House John Boehner has acknowledged in the past few months that while he still maintains a good relationship with the Commander-in-Chief, it has been getting "frosty" as of late. Some political analysts have predicted that because of Obama's decreased popularity, running against an even more unpopular Congress could be a winning strategy in 2012.
RELATED: George Will: Obama Needs Supercommittee To Fail If He Wants To Run Against Do-Nothing Congress
Well, lo and behold, reports now say the president will be adopting that political tactic as part of his reelection strategy, following his legislative victory in pressuring Republicans to pass a payroll tax cut extension last week. According to The New York Times, the president is going to spend less time in 2012 battling with Congressional Republicans and more time delivering "the theme of economic justice for ordinary Americans."
[Deputy Press Secretary Joshua] Earnest said the strategy had successfully planted "the image of a gridlocked, dysfunctional Congress, and a president who is leaving no stone unturned to try to find solutions to the difficult financial challenges and economic challenges facing the country."

Mr. Obama began laying the groundwork for his new strategy in early December with a speech in the hardscrabble town of Osawatomie, Kan., where he said that "breathtaking greed" had contributed to country's economic troubles and that this is a "make-or-break moment for the middle class."

In his weekly address on Saturday, Mr. Obama praised Congress for passing the two-month tax cut extension, but made it clear that the lawmakers acted only under intense public pressure.
However, while some might see the president's strategy as a smart political move, there is a risk to a president making another branch of government a political foe. As The Washington Post notes, Obama could be seen as "giving up on the legislative process in favor of politics," not to mention the president will still need to work with Congress over the coming year to work on important pieces of legislation.
RELATED: Fox News Sunday Panel Questions Whether Obama Can Successfully Run With Bad Economy In His Purview
The president has already taken to filling in the gaps where he believes Congress has dropped the ball with the administration's "We Can't Wait" campaign launched several months ago. He has already used the power of the executive order to implement pieces of his proposed jobs bill until Congress officially makes it into a law, a move that has given Republicans more to go after him for.
However, while the president's reelection strategy may seem strange to some, it is not without precedent. Harry Truman launched a similar campaign strategy against a "do-nothing Congress" in 1948, and successfully won reelection against Thomas Dewey. And given the unpredictability of the GOP primary contest at this point, Obama's strategy stands a chance of working.
Have a tip we should know? tips@mediaite.com
Josh Feldman - Senior Editor