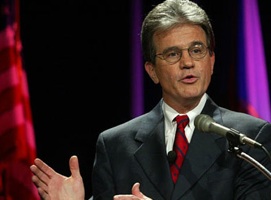 Last weekend, David Frum (the former speechwriter for George W. Bush) appeared on ABC's This Week, and made some news by claiming that "Fox (News), like Rush Limbaugh, has an interest in pushing the Republicans to the margins, making people angry." Last night, Senator Tom Coburn (R-OK) joined in the "anti-Fox" fray during a town hall meeting with his constituents regarding their health care coverage, saying "that makes for good TV news on Fox but that isn't the intention." Are we sensing a trend?
According to Matt Lasso at Capital News Connect:
An Oklahoma town hall meeting with colorful characters and a lot of populist anger brought out an often glossed over side of the ultra conservative Sen. Tom Coburn: his sensibility.

After a woman in the audience railed against the possibility of being put in prison for not obtaining health insurance under the Democrat's new law, Coburn dismissed her remark and questioned the accuracy of Fox News reports on health care reform. The meeting was recorded by radio station KGOU in Norman.
But perhaps more egregious than a GOPer calling out Fox News? Defending Nancy Pelosi, as Coburn does about 30 seconds into the clip below. But again, he blames Fox News for the untoward response when mentioning Pelosi's name, saying, "Come on now. She is nice – how many of you all have met her? She's a nice person." Coburn later added "So don't catch yourself being biased by FOX News that somebody is no good. The people in Washington are good. They just don't know what they don't know."
There is no question, judged purely by their dominating ratings, who has the most powerful voice in new opinion media landscape. And we have gone on record claiming Roger Ailes as the most powerful political player in America. But this is the second and more notable member of the GOP to publicly call out the health care coverage at Fox News. One wonders how Frum and Coburn might be treated by the opinion media hosts on Fox News prime time lineup. Or if this is the start of a trend?
Have a tip we should know? tips@mediaite.com