'His Lies Are Different and Deserve Scrutiny': Stelter Says Trump's Deceptions Unlike Past Presidents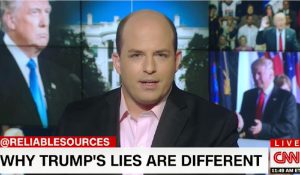 During today's broadcast of CNN's Reliable Sources, host Brian Stelter delivered an essay where he explained why President-elect Donald Trump's frequent lies are different from past presidents and why it is necessary for the media to continue to fact-check him.
"Why does he bend and flex and twist and distort the truth," Stelter asked. "Personally I'm curious because I think Trump does it differently than last presidents. His lies are different and deserves scrutiny."
The media correspondent then played some clips from past POTUS's telling notorious fibs, such as Richard Nixon saying "I'm not a crook" or Barack Obama stating that you can keep your doctor if you like your doctor.
In Stelter's opinion, these are different than Trump because the lies weren't apparent at the time and only became known as untrue later down the line. Meanwhile, Trump makes statements that can be fact-checked in real time and found to be blatantly false.
He played a short video from Trump's recent 'Victory Tour' rally where he said he won the election by a landslide. However, as Stelter pointed out, he lost the national popular vote by more than 2.5 million votes. He noted that this was "rightly fact-checked" and that PolitiFact has found 70 percent of his statements during the campaign to be at least mostly false.
"This is how Trump deceives people differently than past presidents have," Stelter said. "Court cases involving Trump have shown that he lies even when the truth is really easy to discern. And that's what we're seeing all again now."
The CNN host asserted that it was the job of the media to frame Trump's lies in the proper context. Instead of reporting "Trump claims" they need to go with something like "Trump lies again" and explain what the lie is and where it came from.
Watch the clip above, via CNN.
[image via screengrab]
–
Follow Justin Baragona on Twitter: @justinbaragona
Have a tip we should know? tips@mediaite.com