Hysterical Liberals Rush To Protect The Clintons From Minor Threat Posed By Weiner's Misconduct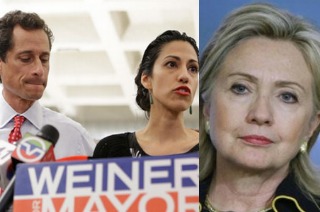 If you needed evidence to confirm that the Democratic Party's presidential bench is alarmingly thin, look no further than the frenetic efforts of panic-stricken liberals to prevent 2013's Weiner-gate (distinct, though not appreciably so, from 2011's Weiner-gate) from tarring Hillary Clinton by association. The reality is that Weiner now appears unlikely to even head to a Democratic runoff for mayor of New York City, let alone the general election or Gracie Mansion. But any threat to President Barack Obama's heir apparent must be, and has been, meticulously and ruthlessly neutralized.

Beginning last week, anonymous sources, without any direction from the Clinton camp whatsoever, began spontaneously volunteering to the press insider accounts of Hillary Clinton's dismay over her long-time friend and aide's decision to quite literally stand by her man.
"Former Secretary of State Hillary Clinton had no advance knowledge that her longtime friend and adviser, Huma Abedin, would speak out on behalf of her husband, Anthony Weiner, according to two sources with knowledge," blared a lead in a report by CNN political analyst Gloria Borger last Friday.
Abedin, an aide to Hillary since the 1990s, had been on the receiving end of a drubbing in the press for appearing with her husband at the press conference where he once again confessed to conducting online sexual relationships with other women. Some in the media accused Abedin of putting her political ambition above her own dignity – Abedin's ambition being inextricably linked to Hillary, the connection was impossible to avoid.
The clamor was, apparently, too loud for the Clintons to ignore. "She didn't know before she saw it on TV," one anonymous source close to Hillary Clinton told Borger. "Hillary Clinton was not involved," another confirmed curtly.
But the speculation did not end. Abedin's humiliation became a focus of the political press, and an irresistibly fresh lens through which to report on the salacious but tread-worn tales of Weiner's sexual indiscretions.
Over the weekend, a series of Democratic sources told The New York Post's Fredric Dicker that they were shocked by Abedin's scandalous efforts to connect her actions with those of Hillary's when she also stood by her man.
"The Clintons are pissed off that Weiner's campaign is saying that Huma is just like Hillary,'' one "top [New York] state Democrat" said in confidence. "How dare they compare Huma with Hillary? Hillary was the first lady. Hillary was a senator. She was secretary of state."
New York Times columnist Maureen Dowd confirmed the active roles the Clintons were taking in trying to distance Hillary from the ongoing scandal.
On Monday, more sources came out to POLITICO's Maggie Haberman seeking to distance the Clintons their friends and political protégés. "The feelings about Weiner in Clintonland are unequivocal, according to one someone close to the couple: 'Everyone's done with him,'" Haberman reported. "Multiple sources familiar with the Clintons' thinking said they would be delighted for him to disappear from public consumption."
Haberman added, however, that the Clintons are wrestling with the "complicated and emotional" conundrum posed by their affection for Abedin. Her story suggests that there are efforts underway to ensure that Abedin's value can be preserved in a post-Weiner era.
Clinton insiders and allies insist they don't believe Abedin has become a liability for the former Secretary of State, who is widely known to be considering a 2016 presidential bid. And a number of prominent Democrats insist publicly that they don't see a problem for Clinton. To wit, Abedin was in Washington on Monday, the day Hillary Clinton had lunch with President Obama, and was seen dining herself with longtime friend and Clinton spokesman Philippe Reines.
"It's not a problem now," one anonymous Democrat told Haberman. "But every day that that this goes on brings increasing risk for the Clintons."
It is hard to see how this incident will negatively impact Clinton's potential 2016 presidential bid. By the time the campaign kicks off in earnest, this latest Weiner episode will be a distant memory. More likely, the Democratic Party's agitated voices desperately seeking to create political distance between the Clintons and the Weiners reflect the dismal state of the Democratic Party's post-Obama bench.
A recently conducted Public Policy Polling survey of the Democratic landscape ahead of the 2016 primary shows Clinton beating all her opponents by a 40 point margin. With 52 percent support nationally, Clinton's closest competitor – the sitting Vice President of the United States – receives only 12 percent support. The party's other rising stars languish in the single digits.
In head-to-head matchups, Clinton bests all the Republican Party's potential presidential candidates, but only by single digits. She is within the margin of error when tested against New Jersey Gov. Chris Christie, Rep. Paul Ryan (R-WI), and former Florida Gov. Jeb Bush. Substitute Joe Biden for Clinton, and those tight races become routs, with Paul, Christie, or Bush becoming the 45th President of the United States (though Paul's margin of victory is also at the top end of the margin of error).
Of course, the next presidential campaign is in its nascent phases and these are the earliest of early numbers, but it is likely that the hysterical Democratic overreaction to Weiner's latest follies are probably informed greatly by the understanding that the party lacks a credible alternative to Clinton in 2016.
> >Follow Noah Rothman (@NoahCRothman) on Twitter
Have a tip we should know? tips@mediaite.com