Kurt Eichenwald Blames Fox News For Teaching 'Stupid People…That Half of America is Evil'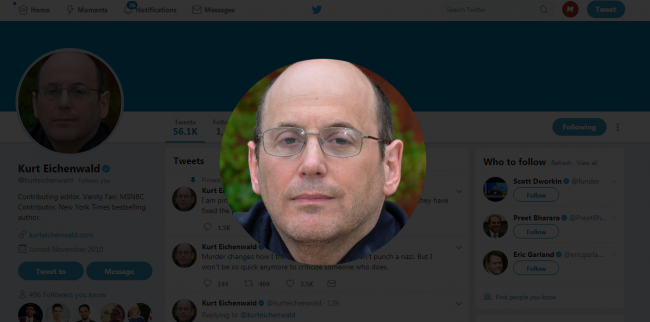 Newsweek senior writer Kurt Eichenwald voiced his opinion on the Charlottesville riot Saturday night by adding a different take on why someone died: because of Fox News.
On Friday night, hundreds of white nationalists, alt-righters, and white supremacists marched around the University of Virginia holding torches and chanting "White Lives Matter" and "blood and soil." The riot continued the next day at a 'Unite the Right' rally in Charlottesville, where the alt-right was met with opposition.
While the counter-demonstrators marched down the street in protest, a car hit the blockade at a high speed, hitting people and rear-ending a car, and leading to the death of one person and multiple injuries. The driver of the car was arrested and identified as James Alex Fields, who took part in the rally that day with the white nationalist group.
Eichenwald called Fields out in his tweet, but instead put the blame on Fox News for feeding "stupid people" their propaganda and "teaching them that half of America is evil."
Eichenwald has something of a history with bizarre Twitter content. He was called out by Fox News' Tucker Carlson last December when Carlson read some of his tweets on air. It quickly turned into heated banter as Eichenwald came to his least favorite show ready with a binder of "Tucker Carlson Falsehoods."
Following that interview, lots of people trolled Eichenwald on Twitter, with one posting a GIF of strobe lights with a note saying "you deserve a seizure for yours posts." Eichenwald reportedly did have a seizure from the gif, called the police, and had a man arrested for the "attack."
To make things worse, one of Eichenwald's tweets after the interview was a picture of an anti-Semitic flyer he was sent, but in the background was his computer, and more importantly, his computer tabs. Eagle eyed Internet users — are there any other — spotted that Eichenwald had a tab open that was labeled "B-Chiku," a picture of hentai, which is basically anime porn. Eichenwald's defense? That he is a "dumbass" who was trying to prove to his wife that "tentacle porn" exists.
[image via screengrab]
Have a tip we should know? tips@mediaite.com