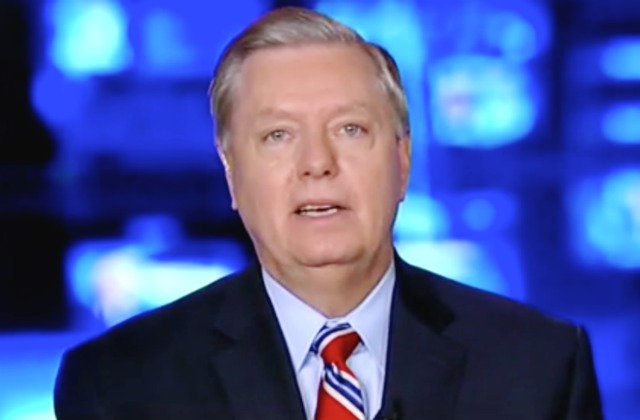 Senator Lindsey Graham spoke with radio host Hugh Hewitt this morning and discussed President Trump's personal style and how the media has been taking it recently.
Graham was amused by the President's Obama-eclipse retweet this morning and told Hewitt, "The media has gone absolutely insane over his insanity."
He praised the President's Afghanistan speech and acknowledged he went a little "nuts" in Phoenix, but Graham clarified that he doesn't think Trump himself is "insane."
Hewitt brought up Don Lemon's take on Trump's rally, in which the CNN host said, "His speech was without thought, without reason, devoid of facts, devoid of wisdom."
Hewitt criticized the "abdication of professionalism" from Lemon, while Graham offered this defense of Trump with his own shots at the media:
"People at CNN, they're literally––he's driving them crazy. Trump is making a political decision here to be presidential, listen to the generals, and to go back to his base and fire 'em up, put pressure on the Senate and the House to do things he wants. He's not the first President to use the bully pulpit to try to push the country in a particular direction or to keep his base on board. He's making a conscious decision to let his base know that when I said I want to build the wall, I meant to build the wall. He's running against Mitch McConnell and Lindsey Graham and others. The Congress is very unpopular, particularly with the Republican base, so there's nothing unhinged about it. It's a political strategy that I'm not so sure is smart, but it's a very thought-out strategy. There's nothing crazy about it. It's a political strategy."
At one point, Graham did offer some advice to Trump to "stop watching cable TV." He told Hewitt Trump once called him at 11 at night to check out something on TV, and Graham's response was "Mr. President, you're watching MSNBC at 11:00. If you stop watching it, their audience goes down by half."
Hewitt laughed a little and reminded Graham he has a show on MSNBC now.
You can listen to the full interview here.
[image via screengrab]
— —
Follow Josh Feldman on Twitter: @feldmaniac
Podcast: Play in new window | Download
Have a tip we should know? tips@mediaite.com
Josh Feldman - Senior Editor