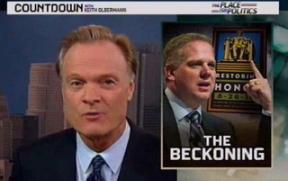 While many Fox News shows talked about Glenn Beck's Restoring Honor rally Monday, others didn't. But it was nothing like the amount of coverage on FNC's competition. CNN and MSNBC treated the event like the big story of the day yesterday.
CNN covered the rally during their morning show, American Morning, yesterday, and again from every hour 3pm-11pmET. That includes significant time during Larry King Live and Anderson Cooper 360.
But MSNBC covered it even more. According to TV Eyes, MSNBC mentioned the rally every hour the network was live yesterday. That's 6am-10pmET, or 16 hours. We've written before about how MSNBC covered the rally more than Fox News in the week leading up to the event as well.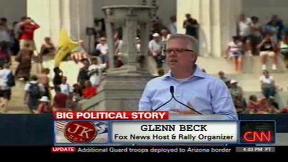 Obviously we could pick from a lot of quotes about the rally, but here was an interesting one from Anderson Cooper, introducing the segment:
Glenn Beck, defying critics to find a political message behind his weekend message in Washington. Tens, perhaps hundreds of thousands of people turned out for the event. The exact number isn't known. A remarkable, revival-style rally, where the focus was on faith.
So what does this mean? Well, for one, no matter how much Beck's critics want to marginalize what happened, cable news couldn't get enough of it. The coverage came during news segments and opinion shows, and CNN and MSNBC took it very seriously. It didn't hurt that there was great video and soundbites involved too.
Again, there are a lot of clips to chose from, but here's Chris Matthews' take on it:


—–
» Follow Steve Krakauer on Twitter
Have a tip we should know? tips@mediaite.com