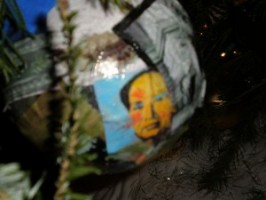 A new front has opened in the "War on Christmas," but this is very different than what anything we've seen before. Yesterday, Big Government ran a headline for the ages: "Exclusive: Transvestites, Mao and Obama Ornaments Decorate White House Christmas Tree." And no, they aren't making that up, nor is it some extremist conspiracy theory. The images of Chairman Mao and Hedda Lettuce really ARE hanging on White House Christmas tree.
The original piece on Big Government opens thusly:
Why let a holiday season come between the White House and making some political statements? The White House pegged controversial designer Simon Doonan to oversee the Christmas decorations for the White House. Mr. Doonan, who is creative director of Barney's New York has often caused a stir with his design choices. Like his naughty yuletide window display of Margaret Thatcher as a dowdy dominatrix and Dan Quayle as a ventriloquist's dummy. For this year's White House, he didn't disappoint.
The piece was contributed by the mysterious "Capital Confidential," which is explained on Big Government as "anonymous sources in the halls of power at the federal, state, and local levels. Big Government double-checks their stories and provides them the cloak they need to reveal the truth."
You'll probably recall back in September when Andrew Breitbart launched his new website Big Government with one of the biggest news stories of the year – the undercover video tapes shot by individuals posing as a pimp and prostitute seeking financial assistance at various ACORN offices. As we've written before, the scandal not only cost ACORN financial funding, but it also became a huge indictment of institutional journalism and mainstream media.
One wonders if this story may have a similar affect on…Christmas? Or maybe the White House will start paying special attention to the imagery used for decorations and stop giving their political opponents so much great material to work with. Perhaps the bigger question is this – did James O'Keefe get invited to the White House? I hope he wasn't in costume, because that would be an even bigger story. Stay tuned.
Bret Baier has the report on Fox News:
Have a tip we should know? tips@mediaite.com