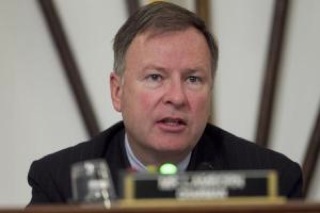 Somewhere in the formidable daily pile of snail mail to the White House today, President Obama received an apology from a Republican Congressman– and no, it had nothing to do with the debt ceiling debate. Colorado Rep. Doug Lamborn excused himself in writing today for comments on a Colorado AM radio show where he said he was afraid of associating with the President because he was a "tar baby." He claims it's not what it sounds like.
Rep. Lamborn was, in fact, talking about the economy on AM 630 [update this post originally stated the clip was from David Sirota on AM 730, as he uploaded the clip to his site and was the first to criticize the interview— but it is from Colorado's AM 630] and arguing that to be associated with the President would do harm to any politicians image. He used an unfortunate idiom to call the President a pariah:
"Even if some people say, 'Well, the Republicans should have done this or they should have done that,' they will hold the President responsible. Now, I don't want to even have to be associated with him. It's like touching a tar baby and you get, you get it, you know, you get in and you are stuck and you are part of the problem now and you can't get away. I don't want that to happen to us, but if it does, or not, he'll still get, properly so, the blame because his policies for four years will have failed the American people. Look at the economic numbers."
According to CNN, Rep. Lamborn's office has released a statement saying the Congressman has sent a letter to the White House apologizing for the epithet and explaining why he used it. "Lamborn was attempting to tell a radio audience last week that the President's policies have created an economic quagmire for the nation and are responsible for the dismal economic conditions our country faces," the statement notes, and that while the Congressman regrets the choice of words, he is "confident" the President will accept the apology. He notes he should have used the term "quagmire" instead of "tar baby," which is a bit of a grammatical stretch, but an improvement.
Listen to Rep. Lamborn's comments via AM 760 below:

Have a tip we should know? tips@mediaite.com