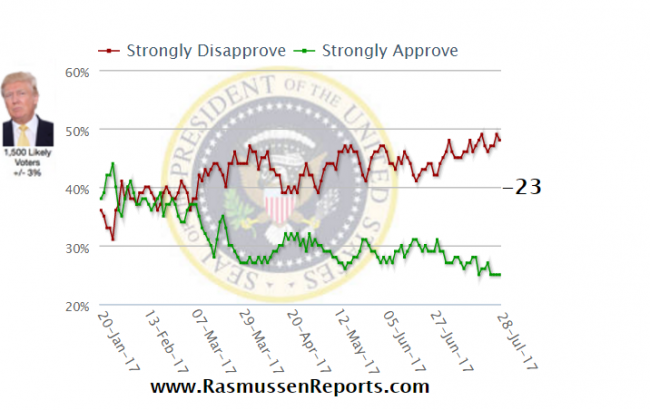 Rasmussen Reports' poll Monday puts President Donald Trump's approval rating at 39 percent, the first time the right leaning polling agency has reported Trump at below 40.
Rasmussen polls 500 U.S. voters every night by phone and publishes their "Daily Presidential Tracking Poll" every weekday morning. They are known to report more favorably to Republicans and have consistently had higher approval rating for Trump than all other polling sites.
For example, in Trump's first month in office, Pew Research Center reported that after polling 1,503 adults, only 39 percent approved of his job performance. The same day, Rasmussen reported that Trump had an approval rating of 55 percent. Another polling site, Gallup, put his approval rating at 41 percent that same day.
A looking at the history of Rasmussen polls shows a steady decline in Trump's approval, starting at 56 percent on Jan. 20 to the current 39 percent. However, the approval rating now seems to be consistent across the sites, with the last PRC poll on June 20 showing the president's approval rating percentage at 39 as well and Gallup showing it currently at 37 percent.
The Rasmussen poll suggests that Trump's tweet saying transgender individuals wouldn't be allowed to serve in the military any more was what made his rating dip. They did another poll on how people felt about his tweet, and only 44 percent agreed with him.
Have a tip we should know? [email protected]