Bill O'Reilly: 'The Republican Party Needs To Rethink Strategy'
Bill O'Reilly: 'The Republican Party Needs To Rethink Strategy'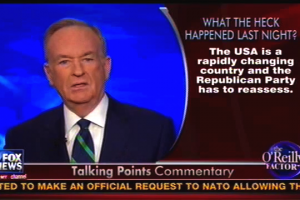 Bill O'Reilly opened his show tonight with a simple question: "what the heck happened last night?" O'Reilly did his best to explain the series of events that led up to President Obama's big win over Mitt Romney last night. He warned of what could be in store for the country in the next four years of an Obama presidency, but also had some advice for the Republican party. O'Reilly said that the GOP can't win a national election on an ideology, and if they want to win in a "rapidly changing country," they need to "rethink strategy" going forward.
O'Reilly admitted he thought Romney has a good choice to run against Obama because his private sector business experience would be a great contrast with Obama presiding over a rough economy. He also touted how he believed early on that the polling would be insignificant and the first three debates would be much more telling. The first debate made Romney competitive, but O'Reilly said he never "seize[d] the day" to capitalize on it.
O'Reilly also criticized Romney for not confronting Obama over Libya in their big foreign policy debate. Had Romney mentioned it, O'Reilly said the media "would have been forced to cover the story," which would have hurt Obama's public image.
O'Reilly also pointed to the aftermath of Hurricane Sandy, saying it gave Obama a boost because he looked presidential. O'Reilly said Romney could have won the election 'if he had recaptured momentum last weekend," and by not emerging aggressively after Sandy, he missed an opportunity to gain some pre-election momentum. And as for the Republican party in general, O'Reilly advised them to read the writing on the wall.
"The USA is a rapidly changing country and the Republican party needs to rethink strategy."
However, O'Reilly also said that Romney could have had a chance had he explicitly warned voters about the "danger" of Obama's policies. O'Reilly said Romney could have done better had he "overwhelm[ed] the electorate with points of doom." But he concluded by saying that while conservatives are still a powerful bloc, ideology is no longer enough to win a national election.
Watch the video below, courtesy of Fox News:
—–
Follow Josh Feldman on Twitter: @feldmaniac
Have a tip we should know? tips@mediaite.com
Josh Feldman - Senior Editor