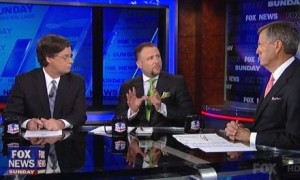 The panel on Fox News Sunday today, guest-hosted by Brit Hume, took on President Obama's statement last week suggesting the Supreme Court overturning the heath care law would be unprecedented, and the subsequent clarification from White House Press Secretary Jay Carney that he meant only on the issue of the Commerce Clause. They mostly touched on the politics of the law and how repeal may impact Obama's chances for reelection.
RELATED: Obama Supporters To Megyn Kelly: Obama 'Did Not Misspeak, Was Misunderstood' On SCOTUS Comments
Steve Hayes said that the substance, the tone, and the timing of Obama's remarks were very misguided. Mara Liasson noted that the White House was trying to convey the message that the president spoke too broadly, and suspected that if the law gets overturned, many Democrats and liberals will start blaming judicial activism just like Republicans have done in the past.
Columnist Byron York suggested the Obama administration was being hypocritical, because while the president was trying to make the case that a law passed by a majority of democratically elected leaders should not be repealed, some of his staff were working to get the Supreme Court to review and possibly rule against the Defense of Marriage Act, which was overwhelmingly passed by Congress. However, Roll Call's David Drucker suggested an odd new strategy for the Democrats that might have begun last week: linking the individual mandate to its origins within the Republican party so that if it is ruled unconstitutional, Obama can still use it as something to run on.
Hayes suggested that at some points during the oral arguments, it felt like Justice Sonia Sotomayor was trying to bring up the issue of social responsibility and the people who would not be insured if the law was repealed, which he argued is not within the court's purview. Liasson noted that even though the Democrats she spoke to said they had no intention of going after the Supreme Court if they rule for repeal, many of them were still surprised at how ideological some of the oral arguments sounded. She also predicted the Democrats would have to come up with an answer for why a constitutional law professor would have signed something unconstitutional into law.
RELATED: CBS Reporter Confronts Jay Carney: Obama 'Made A Mistake, And You Can't Admit It'
Looking at this November's election in perspective, York said the voters should be made fully aware of the fact that the legislation the Obama administration was working the hardest on during their first year was challenged and, if the ruling is against them, struck down. Both York and Drucker agreed that the Supreme Court would end up striking down the whole law
Watch the video below, courtesy of Fox News:
Have a tip we should know? tips@mediaite.com
Josh Feldman - Senior Editor