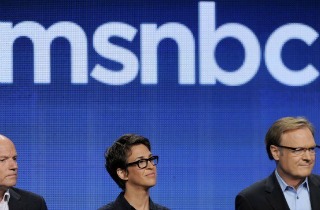 The Pew Research Center's annual report on the state of the media in 2013 revealed that, while all three major cable news networks lost viewers in 2013, MSNBC has been especially hard hit.
Last year, MSNBC's viewership and revenues declined relative to their competitors. While MSNBC continued to have an average viewership slightly stronger than its nearest competitor, CNN, MSNBC was projected to have brought in $475 million – less than half what CNN took in and approximately one quarter of Fox News Channel's revenues.
Both revenue intake and viewership fell in 2013 as the excitement of the 2012 election cycle waned. But while both Fox and CNN also lost viewers, MSNBC shed 24 percent of their viewership from the previous year. "[N]early twice the loss sustained by CNN and four-times that sustained by Fox News," POLITICO's Dylan Byers observed.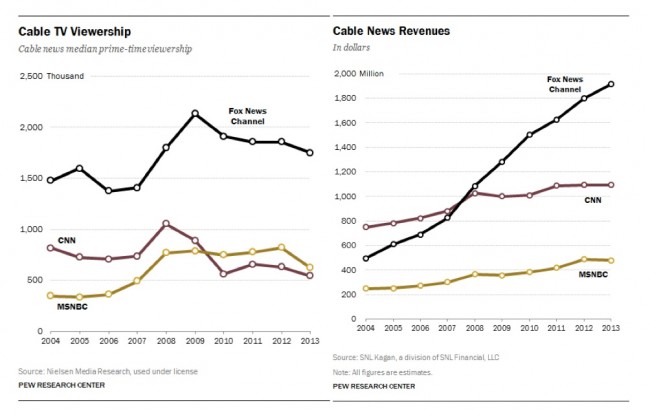 But while Byers says that MSNBC's frantic attempts to mitigate the damage the MSNBC brand has suffered in 2013, hiring younger hosts in a "comically bad" strategy to attract viewers of a similar age and feigning even more outrage directed at the usual suspects, he is kind enough to note that the network has a variety of strong brands that deserve preservation.
Byers submits Joe Scarborough and company, Chris Matthews, and Rachel Maddow as three entities MSNBC should attempt to salvage when they inevitably commit to a recalibration of the network's lineup and philosophy in order to stop the bleeding.
But the Washington Free Beacon's Sonny Bunch saw Byer's take as too charitable towards what he suggested were MSNBC's salvageable brands.
Going back to the most recently available ratings for the three entities Byers cited, Bunch noted that each trailed their competition in both total viewers and the key demographics. On March 24, Morning Joe lost in the ratings to CNN's New Day and Fox & Friends. The story was much the same for Hardball and The Rachel Maddow Show. All programs lost their competitors on CNN and Fox, often rather badly. The bad ratings picture for MSNBC did not improve on March 25, if you thought this was a fluke ratings period.
CNN's ratings have been recently buoyed by the increased interest surrounding the missing Malaysian airliner, but that should be cold comfort for MSNBC's defenders. If the network is hostage to election cycles and breaking news events, it is not a sustainable entity.
"The network needs to figure out what it's going to do in the off years," Byers closes, noting that most of the network "is in need of a restart."
Bunch is less generous. "Burn it down and start over again, Comcast," he recommends. "That's your only hope."
[This post has been updated to reflect that Byers called the daytime strategy "comically bad," and not the specific MSNBC hosts.]
[Photo via MSNBC.com/POLITICO]
— —
> >Follow Noah Rothman (@NoahCRothman) on Twitter
Have a tip we should know? tips@mediaite.com