Surprise! Chris Christie Is America's Most Popular Republican, 'True Conservatives' Hardest Hit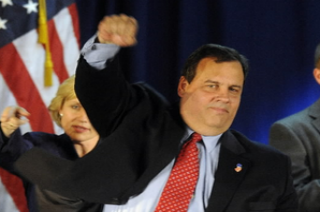 It should come as no surprise but, for some, it probably will.
A June 1 – 4, 2013, Gallup poll of the political landscape ahead of the 2016 presidential election shows that New Jersey's outspoken Governor, Chris Christie, is America's favorite Republican. Unfortunately for Christie, he is also Republicans least favorite Republican. But while some are ready to dismiss the governor's presidential prospects on these grounds, don't be so sure. Appeals to inevitability and electability have historically gone a long way towards getting a reluctant GOP primary electorate to hold their nose and vote for the candidate they do not love but think can win.

American adults, according to Gallup, are broadly supportive of Christie. He is the only Republican with a majority favorability rating – 52 percent – compared to the next most popular Republican, Rep. Paul Ryan (R-WI), who only manages a 40 percent favorability rating.
Sens. Marco Rubio (R-FL), Rand Paul (R-KY), and Ted Cruz (R-TX) follow with 37, 34 and 24 percent favorability ratings respectively (though a full 57 percent had "no opinion" of Cruz, suggesting that most respondents had never heard of him).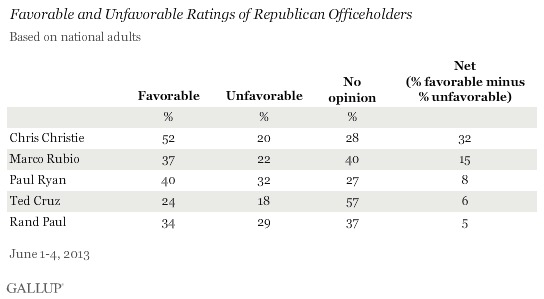 Democrats agree. 54 percent of Democrats hold a favorable view of Christie, while the next most popular pol, Rubio, manages only a 21 percent favorability rating.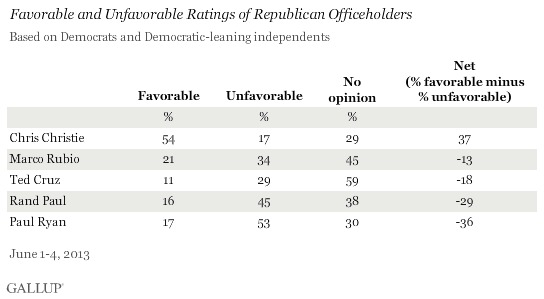 For self-identified Republicans, however, it is a different story. Unsurprisingly, given his willingness to be critical of his fellow GOP politicians, Republicans are wary of Christie. The Garden State governor manages to garner the highest unfavorability rating of any other potential candidate. Only Cruz has a lower favorability rating which is, again, most likely due to his low name recognition.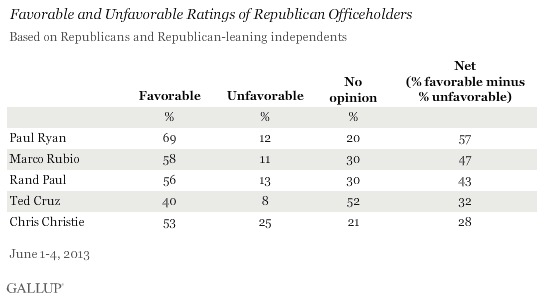 RELATED: Chris Christie Says No Regrets About Post-Sandy Obama Embrace, Praises: He's 'Kept Every Promise'
Politics watchers dismiss early polls of presidential candidates this far out from an election season as little more than tests of name recognition. That is correct, but surveys like these are also used by potential candidates – often effectively – as fundraising tools.
An air of inevitability is a commodity often cultivated by potential candidates, and that invaluable tool is fostered by polls like these. While that sense of inevitably can backfire (see Hillary Clinton and Rudy Giuliani's 2008 bids), it can also help a candidate weather the storms of a rocky primary season when the campaigning begins in earnest (see Mitt Romney's 2012 bid).
Polls like these help Christie to create and manage an image as the GOP's most electable candidate. At a certain point in both the 2008 and 2012 election cycles, when the chips were down for both Sen. John McCain (R-AZ) and Romney, they appealed to the Republican electorate to support them on these very grounds. Ultimately, it was an effective argument. Christie can, and probably will, do the same.
At the very least, polls like these will help Christie raise a boatload of money from the GOP's Acela Corridor donor set. For a potential presidential candidate three years out from an election, polls like these are often quite literally worth their weight in gold.
> >Follow Noah Rothman (@NoahCRothman) on Twitter
Have a tip we should know? [email protected]