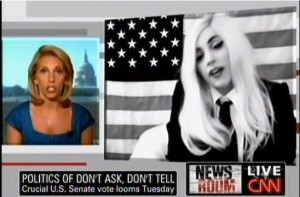 It's a strange time in a news story when Lady GaGa's views on the future of Don't Ask, Don't Tell are more important and get more coverage than Bill Clinton's and Colin Powell's.
GaGa has an afternoon rally in Maine to promote repeal of DADT and encourage the two, moderate Republican senators from Maine–Olympia Snowe and Susan Collins–to bring the repeal to a vote slated for tomorrow.  Good for Lady GaGa and a brilliant move by Servicemembers Legal Defense Network for orchestrating the event which is expected to be covered live by MSNBC and CNN when she starts speaking around 5 p.m.
What a difference a day makes, however, given the lack of coverage the key vote received on the Sunday morning news shows.  NBC Meet the Press' David Gregory interviewed former president Clinton and General Powell but never got around to asking the man who signed the law or the former head of the joint chiefs of staff who recently announced support of repeal about the upcoming vote.
Clinton, promoting the Clinton Global Initiative, also avoided any questions from Bob Scheiffer on Face the Nation. The topic was not raised on the foreign policy-heavy ABC This Week with Christiane Amanpour, Tea Party-dominated Fox New Sunday or CNN's State of the Union with Candy Crowley.
While DADT may not be as important as the elections in Afghanistan, it is likely a more important political issue than Christine O'Donnell and her beliefs about masturbation and witchcraft. So why not ask former president Clinton why he approved the policy and what he thinks about the future of the rule?  Why not ask Powell–who has come full circle on DADT–about his views on the controversy?
Alas, it is up to Lady Gaga to have that conversation about the law.
Before Lady GaGa even took the stage, however, her efforts appear to be in vain.  Snowe announced that she would likely not vote to end a fillibuster on the defense funding bill and said that while she questions DADT, the vote planned for tomorrow is the wrong vehicle for overturning the rule. A reporter for National Journal's Congress Daily is saying the Collins will also not be swayed by Lady Gaga and that both Collins and Sen. Scott Brown (R-Mass.) would not join Democrats in getting DADT to a vote tomorrow.
Here's CNN's preview of the rally and Lady GaGa's role as an advocate.
Have a tip we should know? tips@mediaite.com