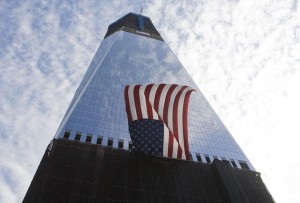 Eleven years after the attacks of September 11th, there has been an unfortunate understanding that so long as we continue to remember that horrible tragedy, people will still use it to their political advantage. This election year is no different. But such exploitation is only so effective, and given how little 9/11 has been exploited compared to the past two presidential elections, it's not hard to imagine that by 2016, using 9/11 as a political cudgel might hopefully end up being discarded altogether.
RELATED: 9/11 Tops Study On Most Memorable TV Moment Of Past 50 Years
What was one of the main reasons George W. Bush won reelection in 2004? 9/11. Dick Cheney literally said that we could "get hit again" by terrorists if John Kerry won. It happened again in 2008. Bush spoke at the convention that nominated John McCain, saying that "we need a president who understands the lessons of September 11, 2001." On the campaign trail earlier that year, McCain accused Obama of having a pre-9/11 mindset.
This year, it was the Democrats' turn. Not to necessarily play up 9/11, but the death of the man who perpetuated it. The basic implication of the attacks on Mitt Romney (essentially asking "Which path would Romney have taken?") is that he would not have been able to bring the mastermind behind those horrible attacks to justice, and a Romney administration would not have provided the kind of closure for the victims' families that the Obama administration did. It's one thing to take credit for a job well done, it's another thing to say the other guy would not have done it in the most hypothetical of scenarios.
But bin Laden nitpicking aside, notice the change in tone. We are too distant from those days to effectively use attacks like "Vote for me, because I understood the lessons of that day" or "My opponent would let something like that happen." The Obama campaign tried it, and even prominent liberals were saying it was a "despicable" tactic. It worked in 2004. It faltered in 2008. This year it's in its final stages of life.
Of course, we still had the over-the-top 9/11 rhetoric this year. An Arizona lawmaker claimed that immigration reform would have "averted" 9/11. Mike Pence compared the Supreme Court health care ruling to 9/11 (though he quickly apologized). It got briefly revived by a Republican congressman last month who tried to compare contraceptive coverage to 9/11 and Pearl Harbor.
This may be somewhat preemptive, and anything could happen in the future to change the national dialogue, but for now let us bid a fond farewell to the politicization of 9/11. We may never forget the sacrifice of those who died on that day, but when the next presidential election comes around, let's hope we forget that there was a time when invoking a national tragedy worked as a political tool.
[Image via]
—–
Follow Josh Feldman on Twitter: @feldmaniac
Have a tip we should know? tips@mediaite.com
Josh Feldman - Senior Editor