New York Post Marks Scott Pruitt's Ouster By Bringing Back 'Survivor: White House' Cover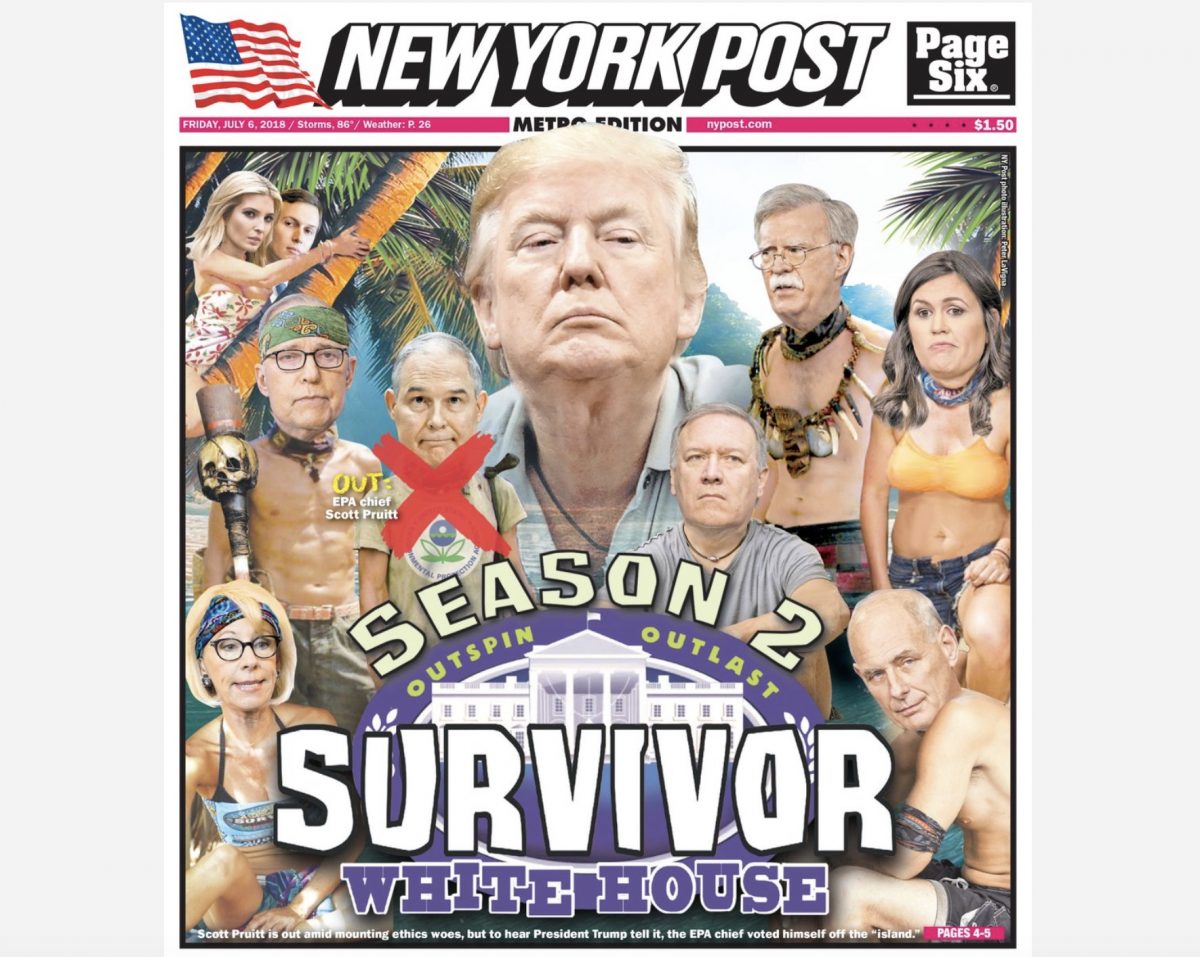 The New York Post has brought back its Survivor cover for Season Two to mark the departure of EPA head Scott Pruitt.
Back in July 2017 they brought out the Survivor theme to mark Anthony Scaramucci's abrupt exit.
The tribe has spoken again https://t.co/GheipiituQ pic.twitter.com/qwSUOrtDbB

— New York Post (@nypost) July 31, 2017
That cover was actually a follow-up of this cover:
Tomorrow's cover: In the latest episode of "White House Survivor," the West Wing descended into chaos Thursday https://t.co/9n4WabNpff pic.twitter.com/CEihk60hwD

— New York Post (@nypost) July 27, 2017
Here is another cover from Season One when Rex Tillerson was axed:
Another one bites the dust… https://t.co/lHbHtJxrq3 pic.twitter.com/VOvM8GljH6

— New York Post (@nypost) March 13, 2018
Now, the Post is at it again with this cover featuring a bikini-clad Sarah Sanders and an "x" over Pruitt, who is standing next to Trump.
Tomorrow's cover: EPA chief Scott Pruitt is out — and we're back for Season 2 of Survivor White House https://t.co/BWD005eG5T pic.twitter.com/inFXZU2WKQ

— New York Post (@nypost) July 5, 2018
The Post is not the only paper dedicating their cover to Pruitt's exit on Friday.
The New York Daily News, while somewhat subdued in comparison, is running with this cover declaring, "Slime's up for scandal-scarred Swamp Thing Scott Pruitt."
Slime's up for scandal-scarred Swamp Thing Scott Pruitt: https://t.co/iuEWyVv0rZ

An early look at Friday's front… pic.twitter.com/gSYElAFenU

— New York Daily News (@NYDailyNews) July 5, 2018
[image via Twitter]
Have a tip we should know? tips@mediaite.com