CNN's Don Lemon Clashes With NewsBusters' Noel Sheppard Over Media Bias In Obamacare Coverage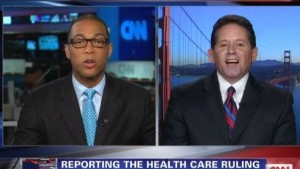 CNN anchor Don Lemon faced off with NewsBusters associate editor Noel Sheppard on whether the media's coverage of the Supreme Court case and last week's ruling on the Affordable Care Act had an overall liberal bias to it. Sheppard argued that not only was the media overconfident about the outcome before even the oral arguments started, but last week after Chief Justice John Roberts upheld the law, he transformed from a "conservative shill" to a liberal hero.
RELATED: Fox News Watch Marvel At Media's Promotion Of Justice Roberts From 'Right Wing Goon' To 'Hero'
Sheppard remarked that during the oral arguments several months ago, the media was speculating the health care law would be upheld and Justice Anthony Kennedy, not Roberts, would be the swing vote. He mentioned CNN's Jeffrey Toobin by name for saying it could potentially be an 8-1 decision, only to recant days after the oral arguments declaring the health care law to be "dead."
Lemon defended the media coverage, arguing that "every single network" was predicting the individual mandate would be struck down, and admitting that he never saw the video of Toobin's bold prediction. Sheppard told Lemon he was mixing up the media coverage pre- and post-oral arguments, insisting that before the arguments began, the media was rather insistent in predicting the entirety of the health care law would be upheld, only to backtrack after the arguments ended. Lemon didn't understand why Sheppard was making such a big deal out of this.
"As time moves on and people learn things, they change what they think about things. Had it not been for the way the oral arguments went, people would think different. But the oral arguments did happen, once they happened, most people said it was going to be struck down, so I don't understand your point."
Sheppard said that because of the grim expectations the media had for the Supreme Court case, the result on Thursday filled the networks with a sense of "jubilation" and feeling "almost orgasmic." Lemon shot back that he saw many conservatives on TV reacting to the ruling as it came in, and "they were going to cry." He insisted that there was no jubilation at all on CNN (the obvious reason being that they were mostly feeling embarrassed at the time). Sheppard argued that all of the evening news broadcasts were spinning the health care ruling in a positive light.
RELATED: Howard Kurtz Scolds Media For 'Prognostications' On SCOTUS Amid Sea Of His Own Prognostications
Lemon told Sheppard he was confusing highlighting a man, John Roberts, at the center of the news that day, with praising him as a kind of liberal folk hero. Sheppard said this was only striking in contrast to months of journalists making Roberts out to be a "conservative shill."
Watch the video below, courtesy of CNN:
Have a tip we should know? tips@mediaite.com
Josh Feldman - Senior Editor