Ana Navarro Says 'Good For' Republicans Who Aren't Endorsed by Trump: It's a 'Badge of Honor'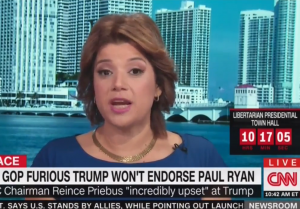 A year and a half ago, it's unlikely that CNN commentator Ana Navarro would have believed you if you told her she wouldn't support the Republican nominee for President. After all, back in the glory days, she was the go-to GOP talker and had a fundamental understanding of all things right of center. Her job used to be a lot easier in the days before a reality television personality called Donald Trump tore her party apart from the inside.
Here we are in 2016, though, and she isn't riding the Trump Train. Maybe more importantly, neither are many of those people on the right with whom she forced the strong bonds that enabled her to become a representative for them on one of the biggest news channels. Watch:
John Avlon started out this segment by telling Carol Costello that there is no way the Republican party can unify around Trump because he simply will always be who he is. Next, Navarro went off. She called Trump's campaign a "trainwreck," saying the wheels were coming off.
She went on to say she, other Republicans, and the media can't afford to focus on the failures of Hillary Clinton's campaign because Trump won't stop waging wars against seemingly random people, like the Gold Star family, the Khans.
Finally, she revealed that her colleagues and contemporaries have expressed to her that they will not be voting for their party's nominee in November. "It's not panic," she explained. "It's sadness. It's resignation. It's heartbreak."
After Julie Pace explained that the divide between pro-Trump and anti-Trump Republicans will last beyond November because of its foundations in the anger that propelled Trump to the nomination in the first place, Navarro jumped back in to say that Trump's refusal to back Paul Ryan, John McCain, and Kelly Ayotte is a great thing.
"Thank God Trump is not endorsing him. That means they won't owe him a thing … As far as I'm concerned, Trump [not endorsing them] — good for them. Badge of honor!"
[image via screengrab]
Have a tip we should know? tips@mediaite.com