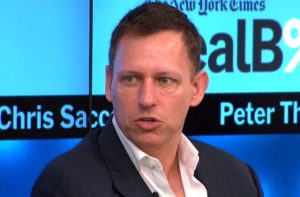 Silicon Valley billionaire Peter Thiel is reportedly looking into launching a cable news network that would act as a rival to Fox News. The project has reportedly been in motion for months, according to Buzzfeed.
Before his death in May 2017, Thiel — who helped drive Gawker out of business by backing wrestler Hulk Hogan's lawsuit against the site — was reportedly working with ex-CEO of Fox News Roger Ailes to create the conservative channel. Ailes resigned from Fox after repeated and longstanding allegations of sexual harassment emerged, but not before helping conservative commenters like Sean Hannity and Bill O'Reilly rise to prominence.
News of Thiel's plans reportedly first emerged as part of journalist Michael Wolff's new book "Fire and Fury: Inside Trump's White House." Excerpts includes a damning account of Trump's first days following his election victory in fall of 2016 that was widely read and talked about throughout the day.
It is worth noting that Thiel is an ardent Trump campaign contributor and supporter who has used his PayPal and Facebook wealth to fund Hogan's lawsuit. In 2016 the businessman spoke at the RNC convention where he spoke in support of then-presidential candidate Donald Trump.
Thiel plans to use some of his own money and funds from the conservative Mercer family. The Mercers have used their vast hedge fund capital to influence political campaigns and to finance Breitbart.
Have a tip we should know? tips@mediaite.com