Mika and Joe Reportedly Delaying Vacation Tomorrow So They Can 'Sling Some Bad Blood' at Trump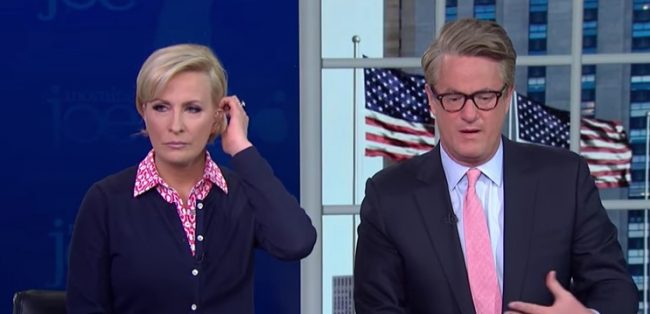 According to the New York Post, Morning Joe host Joe Scarborough and Mika Brzezinski were supposed to start their July 4th vacation early tomorrow. However, following the events of today, the couple will now be on the air bright and early Friday morning to take aim at President Donald Trump over his Twitter attacks.
"Joe and Mika were supposed to start their July 4th weekend early by taking Friday off — but following Trump's tweet, they postponed their trip by day so they can be back on air Friday morning to sling some 'bad blood' back at Trump," an MSNBC source told The Post.
Trump took to Twitter to call Brzezinski "Low I.Q." and "Crazy" while claiming she had a "bleeding facelift" when she tried to attend his New Year's Eve party. It appears that the president may have been set off this morning by a segment on Morning Joe where Brzezinski called his hands "teensy" while poking fun at the fake Time Magazine cover story.
It will definitely be must-watch TV tomorrow morning to see exactly how Joe and Mika react to the president's insults against them. And we'll all be watching Trump's Twitter timeline to see how he responds.
[image via screengrab]
—
Follow Justin Baragona on Twitter: @justinbaragona
Have a tip we should know? tips@mediaite.com