Sarah Palin Supporters Dance On The Grave Of Mike Huckabee's 2012 Presidential Run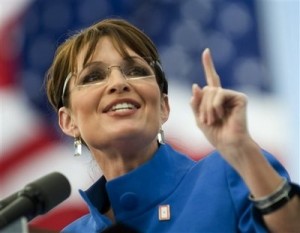 Responses to Mike Huckabee's decision not to run for president in 2012 have been swift, but none swifter than that of leading Sarah Palin fansite Conservatives4Palin, who prefaced the announcement with an impatient open thread that asked "Will Huckabee End the Charade This Evening?" and greeted the announcement with an excited "Huckabee Is Out!"
Comically jubilant reactions aside, Palin's supporters do have considerable reason to rejoice at Huckabee's exit, which could portend a return to form for Palin, and a clear path to a presidential run.

It has been a rough year for Palin so far. She took a lot of flak over the January mass shooting in Tucson when it turned out that shooting victim Rep. Gabrielle Giffords' district was among those targeted with crosshair imagery on a Palin electoral map, and that Giffords herself had criticized Palin over the map months before the shooting.
Shortly thereafter, some heavy hitters in conservative circles began making digs at Palin, and her spell over mainstream media audiences seemed to be wearing off. Even so, in late February, Palin was still in a statistical 3-way tie for the lead in 2012 Republican primary polls. One of the candidates she was tied with then was Huckabee.
It was at about this time that a not-so-young upstart named Donald Trump had his coming-out party at the Conservative Political Action Conference. His unannounced candidacy really caught fire, though, when he began to hitch his wagon to the Birther conspiracy. In fairly short order, Trump was gobbling up all the ink that Palin used to feast on, and threatened to supplant her as the media's go-to content generator. In a few short weeks, Trump found himself all alone atop the 2012 GOP field, and out-polling Palin 26% to 8%.
Whether by accident or design, Palin weathered the Trump storm cannily, threading the needle on Trump's Birtherism by offering detached encouragement, and by continuing to feed the media (and her critics) regular helpings of freshly-killed red meat.
Then, the bottom fell out for Trump. as President Obama released his long-form birth certificate right up Trump's aspirations, and underscored the gaping disparity in gravity between them by interrupting Trump's "firing" of a reality show contestant with news of the killing of Osama bin Laden. In the most recent survey since then, it is Trump who is now polling at 8%.
In that same poll, Palin is in a statistical tie for 3rd (at 12%), but the current leaders are Dead Candidacy Walking Mitt Romney (even Houdini couldn't escape the Romneycare straitjacket) and…Mike Huckabee. Right off the bat, she stands to inherit many, if not all, of Huckabee's supporters, who will likely find Palin's "family values" stance and populist rhetoric appealing.
Furthermore, she's tied with Newt Gingrich, who only exists because Palin hasn't entered the race yet to annihilate him. Gingrich and his personal history won't stand a Spinal Tap Drummer's chance on a debate stage with Palin.
Through it all, Sarah Palin has played her presidential cards close to the vest, and while conventional wisdom has her not running, there have been signs that she will. The word on the Palin grapevine, though, is that nobody knows which way she's leaning. This is either a sign of genius, ambivalence, or a combination of the two, but Palin's instinct to wait out these early rounds has served her well.
It's unclear how much longer Fox News will wait around for her to make up her mind, and Huckabee's announcement may be a push in the right direction. In contrast to Huckabee, Palin certainly won't miss the money, and stands only to benefit from a presidential run. With Trump and Huckabee out of the way, her base-rallying mojo could come roaring back with a vengeance, and even if she doesn't win the nomination, a weak, diffuse field means that she could easily pick up enough delegates to become a power player at a brokered GOP convention.
That may be the best path for Palin, in the end. The most insurmountable obstacle for Palin in a general election is her resignation as Alaska Governor. While her persecution complex is an article of faith for many conservatives, the general electorate won't toss her the keys to a bigger car than the one she left on the side of the road. Another run at the bottom of the ticket, though, would help her regain political orbit, while shielding her from blame for a loss to a tough-to-beat incumbent.
Have a tip we should know? tips@mediaite.com